What is Malbec Wine?
Malbec wine is a great red wine for beginners and a favourite among red wine lovers. It comes from a dark and thick-skinned grape variety called Malbec, which is mainly grown in South America and France. This results in a generally deep reddish-purple and opaque drink with soft to medium tannin levels. It leaves a magenta-tinged rim.
Malbec wines can contain up to 15% alcohol, which is on par with Cabernet Sauvignon and Chardonnay—the most popular of the red and white wine varieties, respectively—as well as Merlot, another red wine made from blue-coloured grapes.
History and Origins
Although the Malbec grape is associated with Argentina nowadays, its roots can be traced to France. The grape variety was first cultivated by the Romans from Italy in the south-western town of Cahors some 2,000 years ago (or around circa 150 A.D.), where it's called Côt, Côt Noir, or Auxerrois. The fruits' dark colour is attributed to the region's limestone soil. The grapes were also known by the same name in Loire Valley in northern France, where they're also cultivated.
Due to its inky hue, people then referred to Malbec wine as "black wine" or "black wine of Lot," which is the name of the river that runs through Cahors and through which the sales of the wine became possible. There are also accounts saying that Malbec is the surname of a Hungarian peasant who was responsible for the spread of these grapes in France by being among its first growers.
As a financial centre in the 13th century, Cahors drew moneyed people from across Europe, many of whom tasted Malbec wine. Due to King Francis I's (1515–1547) fondness for the Malbec, the variety reached the Bordeaux region, where its wineries currently use it as a blending grape for its red wines. The Cabernet Franc, Cabernet Sauvignon, Carmenere, Merlot, and Petit Verdot are the other grape varieties allowed for red Bordeaux blends.
During the height of Malbec's popularity in the region in the 1850s, phylloxera—a microscopic aphid that attacks grapes—wiped out local vineyards. This forced them to focus on Cabernet and Merlot. A killer frost in 1956 destroyed 75% of Bordeaux's crops, forcing its growers to go for the more resilient Cabernet and Merlot. In Cahors, plantation owners affected by the same frost replanted the Malbec, giving winemakers something to add to Merlot and Tannat for a more full-bodied flavour.
Argentinian Connection
The Malbec reportedly reached Argentina in the mid-19th century when French agronomist Michel Pouget recommended the grape variety to the country's winemakers, who consulted him at that time. The first cuttings were planted in the western Mendoza province, at the foot of the Andes Mountains. It's currently home to 85% of the country's Malbec plantations.
The two other top-growing Malbec provinces include San Juan in the mountainous Cuyo region in the upper west and Salta in the north, which borders Bolivia, Chile, and Paraguay.
Compared to the French landscape, the sand and clay soils of the Andes allow the grapevines' roots to soak up more minerals. More importantly, the grapes enjoyed the warm days and cold nights of high-altitude Argentinian regions, ripening in a more balanced way.
Sugar builds up during the dry daytime while the acidity level balances out at night as the temperature cools. This large diurnal range led to the growth of the national wine industry, with Malbec making up over 60% of Argentina's annual wine exports. The country celebrates April 17 as World Malbec Day.
Today, Argentine Malbecs are among the world's thick-skinned grapes. Their thickness makes them a rich source of resveratrol, a natural antibiotic and antioxidant found in plants. Resveratrol helps with heart disease protection as it can fight plaque build-up in the veins. It also aids in arthritic relief.
Malbec Beginnings in Chile
Some wine historians say that it was the Chileans who first propagated Malbec before the Argentinians. After Spain recognised Chile's independence in the 1840s, authorities sought French expertise on viticulture and winemaking to prop up the economy. The initial vine cuttings were planted in Santiago.
The Chilean Malbec sparked the interest of San Juan-born entrepreneur and future Argentinian president Domingo Faustino Sarmiento (1811-1888), who was exiled in Chile at that time. He would later push for the creation of Quintas Normales, which was patterned after France to train local grape growers.
Today, Malbec is mainly found in the Central Valley, also Chile's wine-making zone, which is south of the nation's capital, Santiago, particularly Maule Valley and the Colchagua province.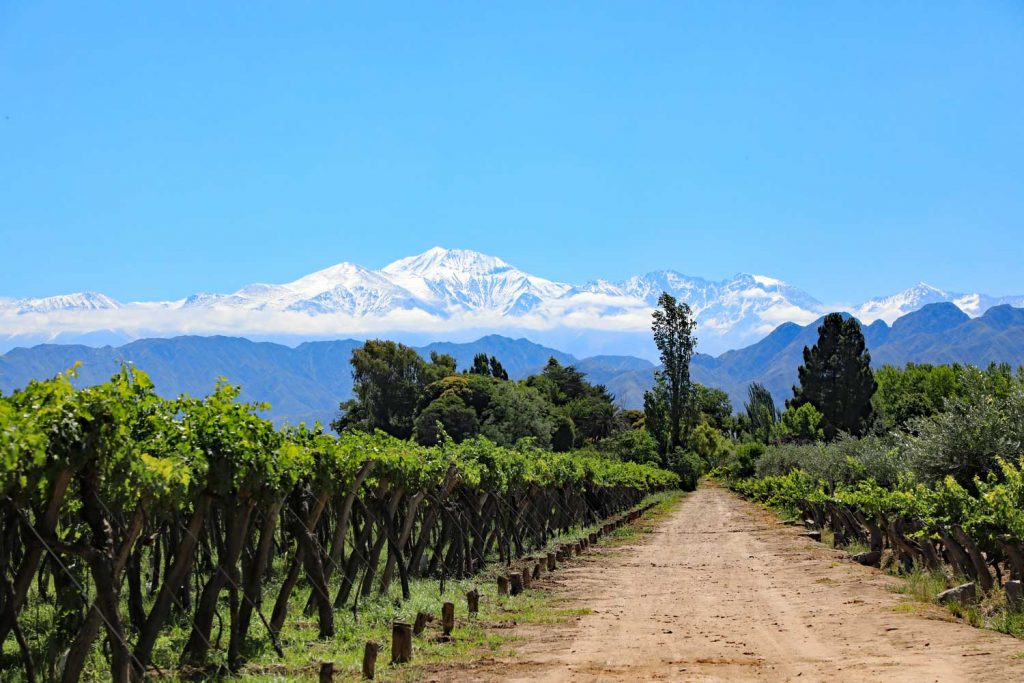 Malbec Wine Regions in Europe and Australia
Spain
Spain is the only other European nation known to produce Malbec due to its nearness to South America. The Spanish Malbec wine use grapes harvested from Castilla-La Mancha, the country's central region famous for their red wine labels.
Australia
Like its French origins, the Australian Malbec had also been mainly used as a blending grape by wineries. But its production as a varietal wine, or wine made from a single grape variety, is increasing. Most of Australia's Malbec plantings are in Clare Valley region in South Australia, but some Aussie winemakers consider Langhorne Creek as the birthplace of Malbec in this part of the country.
It's believed that the family of Frank Potts behind the Bleasdale brand was among the country's first growers.
You'll also find Malbec grapes and Malbec wine in Western Australia, including Swan Valley, parts near Margaret River, and the Great Southern region. Malbec is also a grape variety grown in the Canberra District Wine Region, which covers the Australian Capital Territory and a part of New South Wales.
Besides these two countries, the U.S., South Africa, and New Zealand also produce Malbec wine in small quantities.
The Taste of Malbec Wine
The flavour of Malbec wine depends on its origin but they generally have coffee or chocolaty, leather, and black pepper qualities to it. Also, most of these wines are aged in oak, some as short as six months. Here are some distinct traits of Malbec wine based on their grape source:
French Malbecs
Malbec wines from France taste tart and predominantly feature raspberry as well as red and black currant notes. They have an earthy character with a tinge of tobacco, coffee, and liquorice. French Malbecs also have moderate tannin and acidity.
Argentine Malbecs
Wines from Argentinian Malbec grapes have a more jam-like flavour, tasting like blueberry, red plum, and cherry due to less tannic grapes. This results in a velvety texture and smoother mouthfeel. It also bears cocoa and herbal notes. Other warm-climate Malbecs from Australia and South Africa have a similar flavour.
Check Malbec wine prices here.
Food Pairings with Malbec
Malbec is an affordable and widely available wine that's great for serving a variety of cuisine. Argentinian Malbecs are actually pleasant to drink by themselves. But you can refer to this list for ideas when serving the wine with meals:
Meat
Malbec goes best with red meat—traditional Argentine barbecue (asado), pork loin, grilled lamb chops, flank or sirloin steak, or beef stew. The wine can also stand up to spicy Indian, Thai, or Mexican food, like spicy burritos and quesadillas.
Poultry
When served with the French-style duck confit and grilled duck breast, the Malbec's tannins help clear the fat from your tongue's pallet.
Vegetables, seafood, and grains
Vegetarians can pair the Malbec with grilled portobello mushrooms, baked eggplants, couscous-stuffed roasted red peppers, spicy bean burgers, or a blue cheese sandwich.
Meanwhile, the rose wine version of Malbec is great with seafood (think tuna, swordfish, and other fatty fish), salads, and rice dishes like risotto and paella.
Cheese and cake
Cheese like sharp cheddar, gouda, manchego, or stilton is fine. You may also try Malbec with cheesecake or dark chocolate (70% and higher) but avoid anything too sweet, as the wine will taste bitter or sour when you take a sip.
Check Malbec wine prices here.
Best Malbec Wines in Australia
Through The Wine Collective, you can enjoy some of the world's best single variety Malbec wines right in your home or office when you make an online purchase. Or we can ship it as a present on your behalf, with a gift tag and gift packaging if you so choose. The shop offers fantastic prices, depending on your budget:
Below $100
2016 Beneath The Kite Malbec
Introduce your palate to Malbec with something from our very own Margaret River wine region. Grapes from the Juniper Estate southwest of Perth create a plummy and floral drink that's savoury, with notes of spice and crushed leaf. This varietal is barrel-aged for 15 months in 20% new French oak.
2019 Alamos Malbec
The Alamos Malbec hails from the Catena family's high desert vineyards in Argentina's Mendoza province. It offers blackberry and dark fruit flavours with a hint of black pepper. It's medium-bodied, with a light and creamy texture.
2019 Catena Zapata Malbec
This 2019 vintage, released on April 17, 2021, for Malbec World Day, combines the grape harvests of three vineyards that are 920 to 1,450 metres from the ground. This results in a very unique Malbec, which you can drink now or age for a few more years.
$100~ to $200~ range
2019 Bleasdale Vineyards Generations Malbec
This Bleasdale creation won the gold medal for Best Other Varietal Red class at the 2020 Royal Adelaide Wine Show in South Australia. It smells of violets, plums, blackberries and cloves, with velvety tannins and a cinnamon oak taste.
2015 Bodega Catena Zapata Argentino Vineyard Malbec
Matured in French barrels for 18 months, this wine comes from two of the Catena family's Malbec vineyards. It's dense with stone undertones and sweet-salty elements.
Over $300
2016 Risky Business Malbec
This wine is another Western Australia masterpiece, having come from the Malbec plantations near the Frankland and Margaret Rivers. With 12 months in French oak, it's juicy and punchy to the palate.
2018 Pigmentium Cahors
Finally—a French Malbec! Run by the fourth-generation descendants of Cahors wine pioneer Georges, this drink has powerful black and red fruit aromas. It makes a great party beverage, with its vibrant acidity, as well as sour cherry and smoky notes.
Check Malbec wine prices here.
FAQs
Is Malbec a good wine?
Yes! It's delicious and easy to drink—you can pair it with almost any type of dish. It's also a lovely wine to explore since the "new world" Malbecs are bright and fruity, compared with the classic version that's more oaky and intense.
Is Malbec wine sweet or dry?
Although it's typically considered as a dry wine, Malbec is medium-sweet (around 10%)—like milk chocolate—in the red wine sweetness chart, making it a great partner for meaty viands. It also has medium dryness, but less dry than Merlot.
Is Malbec and Shiraz the same?
While both red wines share ripe dark fruit and jammy accents, Shiraz wine leaves a longer aftertaste. It's also slightly more acidic and tannic than Malbec.
Is Malbec better than pinot noir?
Both are dry wines, but if you want a lighter, more easy-drinking red, pinot noir is the way to go, as it has lower alcohol content and less tannin than Malbec.