If you've tried popular red wine varieties, such as Cabernet Sauvignon, Merlot, and Shiraz, and are looking to try something new, you may want to set your sights on Nebbiolo wines.
This Italian favourite is characterised by a lighter colour—but don't let this fool you. The Nebbiolo has strong tannins and high acidity, giving you an intense yet complex flavours. These flavours only grow in complexity the longer the wine's aged. But what is Nebbiolo and why is it so well-loved, not just in Italy but in other parts of the world as well? What does it taste like? If you want to know more about Nebbiolo, read this comprehensive guide. It will walk you through everything you need to know about Nebbiolo wines.
What is Nebbiolo Wine?
Nebbiolo is a usually dry red wine that's high in tannins and acidity. It's produced from Nebbiolo, an Italian red grape variety that's grown in the Piedmont area, which is also known for producing DOCG wines such as Barolo and Barbaresco, both of which are made exclusively with Nebbiolo grapes.
The grape itself is often compared to Pinot Noir because of their similar nature. Both varieties can be challenging to grow and are terroir-driven. Depending on factors, such as the vineyard's climate and soil type, Nebbiolo grapes can produce red wines that vary in tannin levels, acidity, aroma, and flavour. Because of its complexity, the Nebbiolo wine requires a relatively long aging time to better control its tannins.
The Nebbiolo grape is native to the northern part of Italy and is primarily characterised by its deep purple colour, which makes it yield ruby or crimson-coloured wine. The wine produced tends to turn to a rusty or brick orange colour as it ages. The grapes are known for their delicate colour but bold flavour, which results in wine that has a highly concentrated taste and high acidity. It also has high tannins that may take years to mellow out. This means that Nebbiolo can age for decades without losing its strong flavour because of its prominent structure.
Check Nebbiolo Wine Prices Online
While these Italian grapes may be early-budding, they're also late-ripening. They need good weather and lots of sunlight to achieve full ripeness, which is why the best vineyards for growing Nebbiolo are located on hillsides that are exposed to plenty of sunlight. Soil types also play a crucial role in Nebbiolo cultivation. They thrive on a specific type of soil, which is calcareous marl. This soil type is classified as lime-rich soil that's primarily composed of calcium carbonate.
It's worth noting that Nebbiolo grown on other soil types may not be as aromatic or as complex-tasting as the Nebbiolo that's grown on calcareous marl.
While it can be difficult to cultivate, the Nebbiolo grape variety is now being grown in select regions in the world, including California, Argentina, and Australia. While Piedmont is considered as the 'true home' of Nebbiolo, particularly the Barolo and Barbaresco varieties, other regions in Italy, particularly Lombardy and Valle d'Aosta, are also playing a crucial role in Nebbiolo cultivation and production.
Other regions that produce Nebbiolo are the following Piedmont regions: Gattinara, Ghemme, and Roero. For lighter-styled Nebbiolo, you can loo Langhe and Nebbiolo d'Alba. In Lombardy, Nebbiolo is the main grape for wines produced in the Valtellina region where Nebbiolo is also known as Spanna.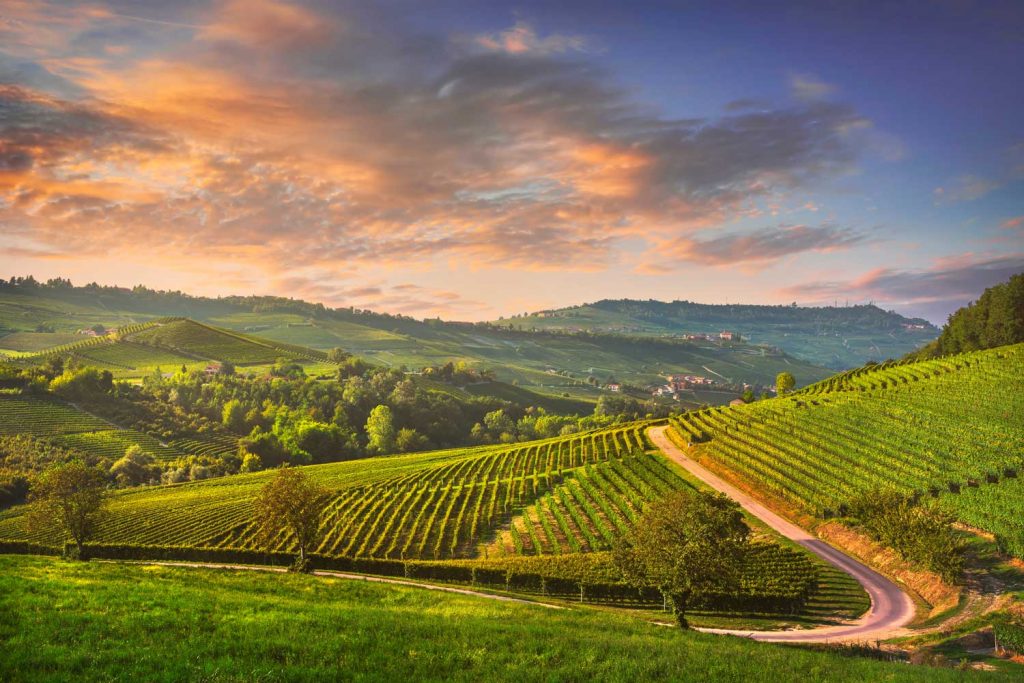 Its History and Origins
Nebbiolo gets its name from the Italian word for fog, which is 'nebbia'. Fog is a common occurrence in the hillsides and vineyards where wine producers grow and produce Nebbiolo. The grape variety itself is native to the Piedmont region, which is located in the northwestern part of Italy. While the regard for Nebbiolo came a bit late, around the 19th century, winemakers have long been producing wine in the Piedmont region since the first century. These wines, however, have only been called 'nebbiolo' starting in the 1200s.
Official records of Nebbiolo go as far back as the 13th century, according to David Butler. The wines produced during this period were sweet, owing to the late harvest period that was characterised by low temperatures. These, in turn, affected fermentation that brought about higher residual levels of sugar in the wine.
Growth and production were refined later on and in the 19th century, Nebbiolo gained traction. Its growing popularity at that period was chiefly attributed to Count Camilo Benso of Cavour and Giulia Colbert Falletti, the last Marquess of Barolo. It would eventually capture the interest of the nobility, who would dub it as the 'King of Wines.'
Check Nebbiolo Wine Prices Online
Nebbiolo Wine Regions in Europe and Australia
Other regions that grow and produce Nebbiolo include Ghemme and Gattinara, which are located near the foot of the Alps. It's also grown in designated regions including Costa delle Sesia, Lessona, Bramaterra, and Sizzano, all of which are found within the Alto Piemonte region. Some are also grown in Lombardy.
In the New World, the cultivation of Nebbiolo is growing more popular. Wine producers in Australia, particularly in Victoria and South Australia, are growing Nebbiolo. The variety that's being grown in these areas is fruitier, less tannic, and has more robust floral notes compared to the ones grown in Italy. This is because the vineyards in these areas receive a lot of sunlight, which is a crucial factor in growing this grape variety.
In Australia, you can find vineyards in Yarra Valley, Adelaide Hills, the King, and Alpine Valleys.
The Taste of Nebbiolo Wine
Nebbiolo wine is a full-bodied red wine that expresses fruity aromas and flavours. You'll find floral notes, such as that of violets and roses, along with darker notes of tar, leather, and herbs like clove and anise. Flavours of cherries and raspberries also emerge. Its flavour may tend to vary depending on the time of the year. During cooler periods, Nebbiola may taste more herbaceous than floral or fruity.
Given its strong structure, it may take a few years before these flavours can become balanced. As it ages, secondary and tertiary notes of prunes and leather begin to emerge.
You might like Nebbiolo wine if you already prefer the flavour profile of Sangiovese or Pinot Noir. It's also characteristically dry and has moderate to high alcohol content.
Food Pairings with Nebbiolo Wines
Nebbiolo is a versatile red wine. However, it's primarily ideal for meats that have a gamey or fatty profile. Spicier Nebbiolos, such as Barolo and Barbaresco, go perfectly with wild boar, goose, fatty steak cuts, and pork shank. You can also pair it with rich dishes, like lamb ragu, osso buco, and truffle risotto.
For vegetables, nothing beats Italian fare. Think of regional dishes that utilise tomato-based sauces. Nebbiolo d'Alba is also great for wild mushrooms, vegetarian pasta, roasted vegetables, and other savoury vegetarian dishes in general.
Nebbiolo wines also pair well with Asian cuisine, particularly the spicier ones. Other food matches you can try with Nebbiolo include a variety of cheeses, like brie, feta, or Parmigiano Reggiano, and herbs, including sage, coriander, star anise, clove, and Sichuan pepper.
To serve Nebbiolo, you need to decant it for a minimum of 45 minutes up to 2 hours.
The Best Nebbiolo Wines for Every Budget
Want to give Nebbiolo a try but don't know where to start? We're here to help you out. We've curated a list of great Nebbiolo wines that'll suit every budget.
Feeling Frugal? Nebbiolo Wine That's Less Than $20
2019 Trentham The Family Nebbiolo
This selection makes for a great introduction to the complex world of Nebbiolo. It's a light-bodied wine that's produced in the Murray Darling region. It has fruity tasting notes comprised of blackberry and plum. It's best enjoyed with hearty dishes like puttanesca or wood-fired pizza.
Great Price That Doesn't Compromise Taste: Nebbiolo within the $20 to $100 Range
2012 Terre Del Barolo Barolo Riserva
Hailing from the Langhe region, this wine features notes of rose petals, baking spice, and leather. Its tasting notes offer morello cherry, star anise, and clove. Due to its strong structure, it ages quite well. With this wine, your patience would be highly rewarded. Store it in your cellar for up to a decade and be pleasantly surprised by its distinctive taste that's well worth the wait.
2016 Cantine San Silvestro Barolo DOCG Patres
Produced in the Barolo district, this wine is aged for 38 months in oak. It has notes of scorched earth, leather, and cooking spice. Its palate features flavours of baked plum, sage, and orange zest. Keep it in your cellar until 2035 and you'd be rewarded by a wine that has rich and intricate flavours and aromas.
2016 Casa di Mirafiore Barolo DOCG
Defined by a powerful structure and concentration, this vintage has an intense flavour that evokes notes of tobacco and savoury tones. To best enjoy this Barolo, store it in your cellar for a few years. As with other Nebbiolo varieties of which structure and tannins have mellowed out with aging, waiting a while and letting this age would be worth the patience.
2017 Giovanni Rosso Langhe Nebbiolo DOC
With floral and fruity notes typical of Nebbiolo wine, you won't go wrong with this 2017 vintage. It's easy to drink and offers a fresh taste due to its fine structure and tannins.
2017 Luciano Sandrone Valmaggiore Nebbiolo d'Alba
Produced in Piedmont, the 2017 Valmaggiore has fruity and liquorice notes. It has a delicate taste that offers an initial burst of sweetness. It has excellent tannin and acidity that help balance its complex and vibrant fruity flavours.
Splurge-Worthy Nebbiolo: Bottles above $100
2013 Paolo Scavino Barolo Riserva Rocche dell'Annunziata
This 2013 Riserva is characterised by elegant and ethereal aromas of rose petals, violet, and lilac interspersed with hints of tar, sweet red cherries, and mint. It has an intense flavour that's complemented by a silky texture.
2016 Cordero Di Montezemolo Monfalletto Barolo
This highly-rated Nebbiolo has a floral and spicy bouquet that lends itself well to grilled and gamey meats. It has notes of tobacco, cherries, liquorice, black raspberries, and bitter cocoa. It's medium- to full-bodied and boasts of a mineral finish.
Check Nebbiolo Wine Prices Online
Frequently Asked Questions
1. What does Nebbiolo wine taste like?
Nebbiolo is known for its flowery scent, evoking aromas of violets and roses. It has complex flavour notes that bring to mind truffle, fennel, leather, and liquorice with a dash of tar. Regardless of the type of Nebbiolo, whether it's Barolo, Barbaresco, or other wines made with Nebbiolo grapes, they share some distinct notes, including red cherry, clove, anise, and dried fruit.
2. Is Nebbiolo similar to Pinot Noir?
The short answer is: not exactly. While the grapes used to make these two wines are grown in cool climates and are challenging to cultivate, the former is marked by its high tannins and acidity, whereas the latter has lighter tannins and lower acidity. Pinot Noir also has aromas of fresh fruit and minerals, whereas Nebbiolo tends to have a flowery scent and cherry scent.
3. What are the different types of Nebbiolo wines?
There are several wines that can be made with Nebbiolo grapes. These include:
Barolo DOCG
Barbaresco DOCG
Gattinara DOCG
Langhe Nebbiolo DOC
Nebbiolo d'Alba DOC
Valle d'Aosta DOC
Valtellina Superiore DOCG
4. What wine grapes are used for Nebbiolo?
It's made with Nebbiolo grapes that are native to the Piedmont Region. They're mostly found in the Langhe Valley—a foggy area that experiences long and mild autumns.
5. What is Barolo?
Barolo is known as 'The Grand Italian Wine' and is made with Nebbiolo grapes. Barolo wine began to be produced around the 19th century and was dubbed as the 'King of wines and wine of kings' by the nobility during that period because of its distinct qualities. It's produced in the Piedmont region, particularly in Barolo DOCG. To be considered as a Barolo, the wine must comply with the standards set by the Denominazione di Origine Controllata e Garantita (DOCG) wine classification system. It should be aged for at least 3 years in oak barrels. To be classified as 'Riserva', it must be aged for 5 years.
Check Nebbiolo Wine Prices Online