As the world's third largest wine producer, Spain is often eclipsed by France or Italy when it comes to winemaking. However, of all wine-producing nations, it has the widest area—nearly five million acres of land—for grape cultivation. Spanish winemakers also produce some of the world's finest wines, rivalling their French and Italian counterparts.
The terrain and temperature vary immensely across the Spanish peninsula. While the north-western region has cool ocean breezes, the south has dry, arid land, which is not ideal for most grape varieties. Given that Spain is a large country, wine regions have their own unique microclimates. This makes the range of the wines of Spain diverse and very interesting. If you don't know what grows where, shopping for Spanish wines can be daunting. But don't worry. That's what we're here for.
Let's delve into Spanish wines.
Spanish Red Wine
In Spain, wine comes in a variety of flavours. Having an abundance of native red grape and white grape varieties planted in unique microclimates, you can expect the country to have a wonderfully diverse range of wines.
Here are some of the best Spanish red wines.
2017 Terroir al Limit Priorat Historic Negre
The Historic Negre is a red wine produced in the Priorate region of Spain by Terroir al Limit. It is made with two grape varieties: Garnacha Tinta and Carinena. After a ten-day maceration process and prior to being bottled, it is aged for six months. This young, light-bodied, and fruity wine pairs perfectly with roasted red meats, aperitif, and stuffed aubergines. Terroir al Limit embraces organic viticulture, which means no synthetic fertilizers, insecticides, and herbicides are used in the production of fruit.
2016 Pagos de Araiz Roble Navarra DO
The Pagos de Araiz Roble Navarra is a full-bodied Spanish wine with great tannins. It is the perfect blend of Gernacha (20%), Merlot (30%), and Tempranillo (50%) from the Navarra region of Spain. It has fresh fruity notes with clean and bright aromas. It has fine-grained tannins that lead to a persistent finish. It should pair well with most Mediterranean-style dishes.
2016 Dominio de Pingus Flor de Pingus Ribera del Duero
The Flor de Pingus has a medium body with fruity notes. It has aromas of vanilla, dark plums, cherries, anise, and liquorice. It is dry and has medium supple tannins. Its clean, velvety texture comes with a long finish. Made with 100% Tinto Fino wine grapes, it is best enjoyed with beef, lamb, or game.
2017 Bodegas Vega Sicilia Unico Reserva Especial Venta
Unico Reserva Especial is one of the most expensive wines produced from Ribera del Duero, Spain. It is the region's seventh most sought-after wine. A blend of Cabernet Sauvignon and Tempranillo, it has a rich and intense flavour, a cherry acidity, and a silky tannin quality. It is best paired with beef or venison. Celebrated for their intensity and longevity, Vega Sicilia wines are easily some of the best in the world.
2015 Raul Perez El Pecado
Made with a single grape variety, Mencia, Raul Perez EL Pecado has a ripe redcurrant, blackberry aroma, with hints of eucalyptus and blood orange. In terms of flavour, it has earthy notes and a persistent fruity finish. The grapes are planted along the steep slopes of the Sil River Canyon. The harvest is done manually and the wine vinification process is performed the traditional way: stepping on grapes and fermenting them with indigenous yeasts. The red wine produced is aged for a year in oak barrels.
Famed Spanish Wine
The best thing about Spanish wines is that a lot of them aren't as expensive as their French or Italian counterparts. Even if they have the same quality, they are usually more affordable. There are, of course, a few exceptions to that. Some wines come with a hefty price tag. If you have a taste for the extraordinary, you might want to get a bottle or two of these high-quality wines.
Here are some of the most expensive wines in Spain.
Teso La Monja, Toro
The Teso La Monja, Toro is a full-bodied wine with a complex and bold combination of Asian spices, black fruits, sandalwood, leather, and balsamic. It has fine-grained tannins and a good finish. Made with a single red grape variety, Tinta de Toro (Tempranillo), it is grown in gravel and sandy soil without the use of herbicides and other chemical products. To make the wine, grapes are picked and destemmed by hand before being fermented in an open-top oak container.
Dominio de Pingus, Ribera del Duero
Another expensive bottle produced from the low-yielding Tempranillo grape is the Dominio de Pingus, Ribera del Duero. One good reason why it's a cult favourite in Spain is that it was the first-ever garagiste wine in the country. It's made by a winemaker who doesn't adhere to the usual traditions of producing wine. The 2009 Dominio de Pingus, Ribera del Duero is a fresh, bright wine that comes in a deep ruby colour and bears powerful aromatics. Hints of plum, dark cherry, and mineral are discernible at the first sniff. The wine has good acidity and strong yet supple tannins, giving it the right structure for its concentrated fruity flavours.
Descendientes de J. Palacios La Faraona, Bierzo, Spain
The Descendientes de J. Palacios La Faraona, Bierzo is perhaps the most expensive Mencia wine. Its grapes come from three vineyards, particularly from 60 to 100-year-old vines. La Faraona has a rich purple colour. In terms of aroma, you will get hints of black dark fruits, spices, and forest fruits. On the palate, it tastes smooth and medium dry. It has a fresh, fruity flavour that lingers on your mouth after every sip.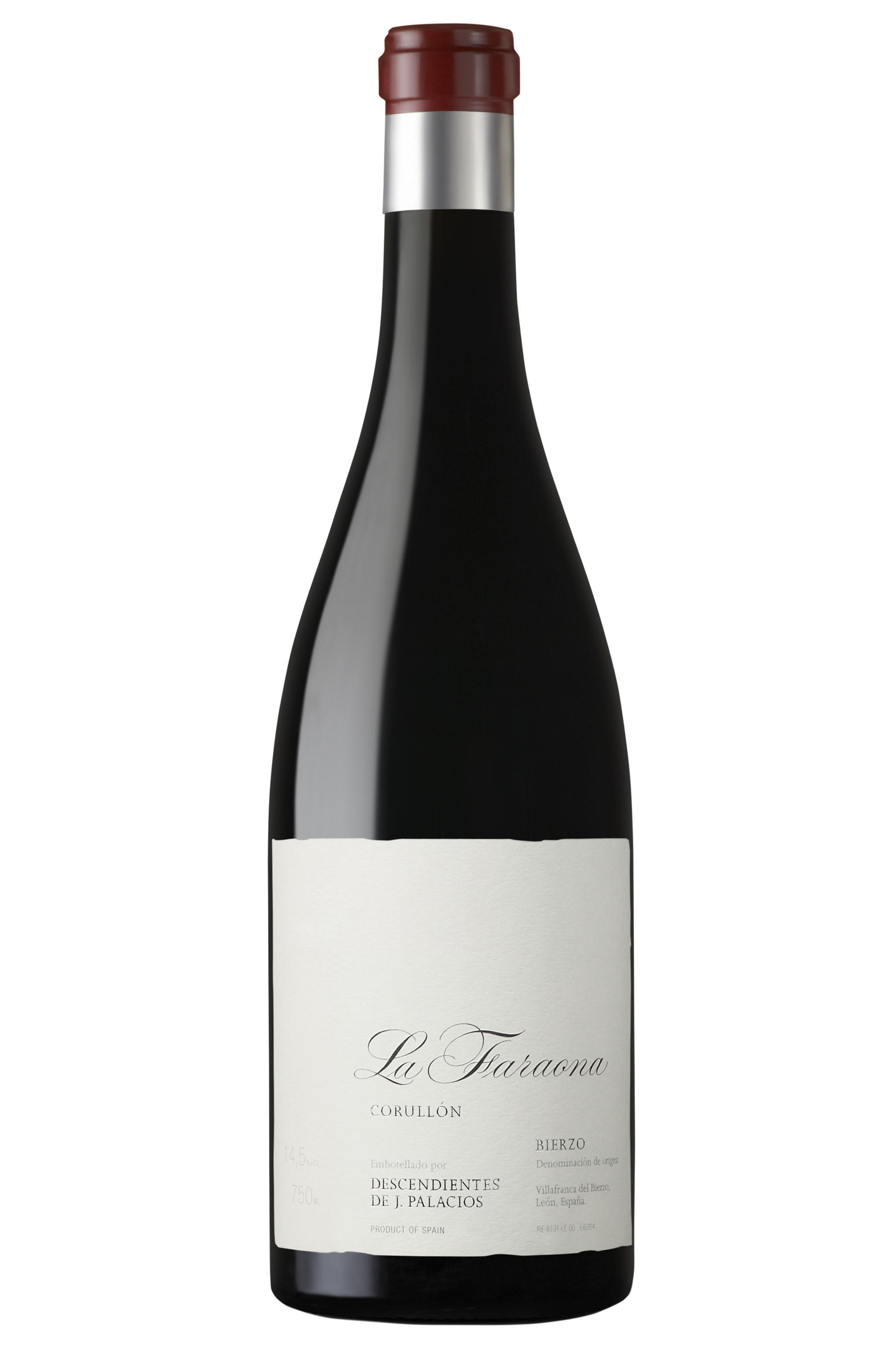 Spanish Wine Types
The wines in Spain come in a wide range of flavours and characteristics, but they have one thing in common: they all pair well with rich food. Thus, the next time you want to indulge in sumptuous meat dishes, you might want to complement them with a glass of Spanish wine.
Here are a few of the most iconic wines in Spain.
Cava (Sparkling)
Cava is the Spanish counterpart of Champagne, but it costs significantly less. It's often made with white wine grape varieties such as Chardonnay, Parellada, Macabeo, and Xarello. If Spanish red grapes are used, rose sparklers can also be made.
Albariño (White)
The Albariño is a high-quality white wine with a ton of acidity and flavour. Its taste has floral and citrusy notes, perfect for dishes like ceviche and other local seafood. Grown in the north Atlantic coast of the Spanish peninsula, the Albariño often has a slight salinity to it, making it an ideal accompaniment for food.
Garnacha
High-end Garnacha wines have bold, complex flavours. These are produced from old vines, and they are aged longer. Madrid produces single-varietal Garnacha from vines planted in higher elevations. The Priorat region makes Garnacha with a blend of Cabernet Sauvignon, Syrah, Merlot, and maybe Carinera, which gives it a bolder style, often with notes of liquorice and blackberry. High-end Garnacha may cost around $25 to $35.
Bobal (Red)
Made from a red grape variety that's native to the Spanish peninsula, Bobal has a dark purple colour, black fruit flavours, and high tannins. It isn't widely known outside of Spain because it isn't as heavily exported as other types. However, it is quite popular locally as it uses one of the country's most widely planted grapes. These grapes are grown mostly in Central Spain. Some wineries there have discovered unique ways to manage the bold tannins of the wine to make it smooth. Bobal wines are excellent for flavoured meats such as carne asada.
Sherry (Fortified)
Made in Andalucia, Sherry has a range of sweet and dry varieties. Fino or Manzanilla are dry sherries. They have crisp and acidic characteristics, making them ideal for seafood dishes. Amontillado is a medium dry sherry that goes well with chicken. Oloroso, on the other hand, has notes of caramel and nuts, which makes it great with meats.
Malaga (Fortified)
One of the oldest wine-producing regions in Spain, Malaga's winemaking methods date back to the Phoenicians—way before the Romans took over. The sweet, fortified wines of Malaga are produced from Moscatel or Pedro Ximenez grapes. Whether red or white, Malaga is best served alongside local goat cheeses.
Monastrell
Known to the French as Mourvedre or Mataro, Monastrell wines originate from Spain, but they are produced in other nations as well. Aside from France, Australia has also embraced this style. The Monastrell has a firm structure with black fruity notes and a complex spice flavour.
Spanish Wine Regions
In Spain, people don't usually use grape varieties when referring to wine. They are classified according to their Destination of Origin (DO). Much like the rest of Europe, Spain regulates wine production regionally, limiting the types of wind they can produce and from which grapes.
The country has 69 wine regions, but some of the most well-known include Rioja, Ribera del Duero, Priorat, and Toro. Every region in Spain has something unique to offer: their vineyard landscape, the produce you pair with the local drink, and the wine itself.
Here are some of the most well-known wine regions in Spain.
Rioja
Located in North-Central Spain, Rioja has historically been the nation's red wine region. Around three-quarters of the wine produced in the region is red and typically has a blend of earthy and fruity flavours. Tempranillo is the principal grape variety in Rioja. Regulations, however, allow three other varieties for red wine: Graciano, Garnacha, and Mazuelo. To make red Rioja wine, you usually have to combine two or more of these varieties. You can also add non-traditional grapes such as Cabernet Sauvignon.
Ribera del Duero
In North Central Spain, the region of Ribera del Duero produces some of the nation's finest red wines, rivalling wines like Bordeaux and Tuscany in terms of quality, prestige, and price. The reds produced here are mostly made from Tempranillo, but other varieties are allowed in the region. Cabernet, Merlot, Sauvignon, and Malbec are a few examples.
Priorat
The steep slopes of Priorat make grape cultivation extra challenging, which is why winemaking has been abandoned in this region in Spain for a very long time. But in the last few years, Priorat has seen a resurgence in wine production. Home to some of Spain's oldest vines, they produce strong, full-bodied reds, often with concentrated aromas of cherries, liquorice, and tar.
Toro
Another wine region that's becoming increasingly popular outside of Spain is Toro. They produce bold, full-bodied wines made from Tinto del Toro, which is a type of Tempranillo. Their wines are rich in flavour and aroma.
La Mancha
Aside from being the setting of Miguel de Cervantes' 17th-century novel Don Quixote, La Mancha is famous for its vineyards. The arid but highly fertile plateau in Central Spain is one of the country's largest and oldest wine-producing regions. The grape varieties that grow in La Mancha are able to withstand harsh conditions—Airen is an example.
What Is Spanish Wine Called?
Wine in Spanish is called vino. As mentioned, most of the red wines that the country produces are labelled according to their origin and rarely by the variety of their grapes. The three most common grape varieties in the country are Tempranillo, Garnacha, and Monastrell.
Tempranillo means "little early one," which was the name given by the growers in Spain who noticed how the grape variety ripened earlier than the Garnacha. On the label of a Spanish wine bottle, you will often see the words crianza, reserva, or gran reserve. People assume that these are the grape varieties used in the making of the wine. However, they refer to the length of time that the wine has been aged. They refer to the quality of the wine, not its style.
Here are other terms you might come across:
Joven
Wine that hasn't aged well is called joven in Spain. It refers to young wine. Knowing the term might be helpful when you're ordering wine at a restaurant or local shop, but you certainly won't see it on a bottle label.
Criado en Barrica
In Spain, an affordable bottle with criado en barrica on the label contains wine that has been aged in barrels. However, if there are no labels like crianza, reserva, or gran reserva, the wine hasn't met the standards for these.
Vino de la Tierra
Certain wine regions in Spain have yet to apply for a denominación de origen or "designation of origin" (DO) status. If they want to protect its quality, they will often carry the label vino de la terra. This means that their standards are controlled by an external party, which is often stricter than the DO criteria.
What is the Most Popular Wine in Spain?
Riojas are arguably the most popular Spanish wines in the world.
La Rioja produces mostly red wines, which are made from blended different wine grapes, with Tempranillo as the dominant grape. The longer the Rioja is aged, the fuller and bolder the style.
Rioja wines are classified based on the barrel aging period:
Joven wines are under 15 months old. They aren't aged in oak barrels like other varieties.
Crianza wines are aged in barrels for at least a year before it's aged for another year in a bottle.
Reserva wines are stored for an entire year in oak barrels before they are bottled and aged for a minimum of 24 months.
Gran Reserva wines are made from only the best grapes in Spain. They require a five-year aging period—at least two years in oak barrels, and three in bottles. These vintages are the most expensive and rare Spanish wines you will find.
Crianza is the most popular wine for everyday drinking in Spain. The selling price of these wines usually range from $10 to $15.
Meanwhile, Table wine or vino de mesa is the lowest quality of wine you can find in Spain. No regulations and policies govern their production. You should be able to buy a bottle of table wine for a dollar or less.
What Is Rioja Wine Similar To?
Rioja is quite similar to Bordeaux in that its red wines are mostly blended varieties with Tempranillo as the main grape variety. It might also remind you of Cabernet Sauvignon because of its fruity notes. It is ideal for people who enjoy Cabernet but want more prominent cherry flavours that Pinot Noir is known for.
Although Rioja isn't as well-known as Bordeaux or Burgundy, it is just as age-worthy. On the bright side, this also means that an exceptional bottle of Rioja can cost significantly less compared to a Bordeaux or Burgundy wine bottle.
The Rioja wines pair well with almost anything, but it's best consumed with the savoury flavours and strong cheeses of Spain.