There are a huge range of white wine varieties with characteristic colourings that can range from straw-yellow to almost golden. Surprisingly, white wines are manufactured from the pulp of both light and dark-skinned grapes. Most grapes, regardless of skin colour, have white pulp, and white winemakers avoid using the dark skin that gives red wine its colour. Wine grapes have become established in all corners of the globe where climatic conditions are suitable, and although there are hundreds of varieties, only a handful are commonly used in large-scale wine production.
As an Amazon Associate I earn from qualifying purchases.
A brief white wine history
Evidence of wine production dates back many thousands of years, with archaeological excavations unearthing Middle Eastern winemaking at least six or seven thousand years ago. Exact origins of the first winemaking are debatable, although the spread from Anatolia and Armenia to Mesopotamia is well documented. Tablet inscriptions from several ancient civilisations disclose that diverse wine varieties were already in production, including red, white, honeyed, new and sour.
The famous Greek physician Hippocrates used 'vinous white wine' and 'bitter white wine' as remedies for a variety of ailments, and expensive white wine was prominently placed at prestigious Roman banquets. The spread of the Roman empire and associated armies resulted in adapting grape varieties more suited to cooler climates far from the Mediterranean, as an alternative to unsafe drinking water. These new lighter and less sweet wine varieties soon found a home in regional European cultivation, and remain popular at home and abroad to this day.
Wine production and market domination was determined by the spread of empires, discovery of new lands, war, missionaries, and even the Little Ice Age from around AD 1550 to 1850. By the 16th century, Europeans had begun to colonise North and South America, and vineyards were among the first agricultural enterprises.
Check White Wine Prices on Amazon
Successive generations of winemakers have interbred grape varieties to produce an enormous range of white wines, and the advent of refrigeration has assisted those in warmer climates to control the fermentation process which can suffer in extreme heat. White wine grapes require less heat to ripen than red (black) grapes, and tannins are not usually extracted in pressing or production. White wine grapes used in dry wines are harvested prior to full ripening, making them a suitable product for cooler or mountainous regions.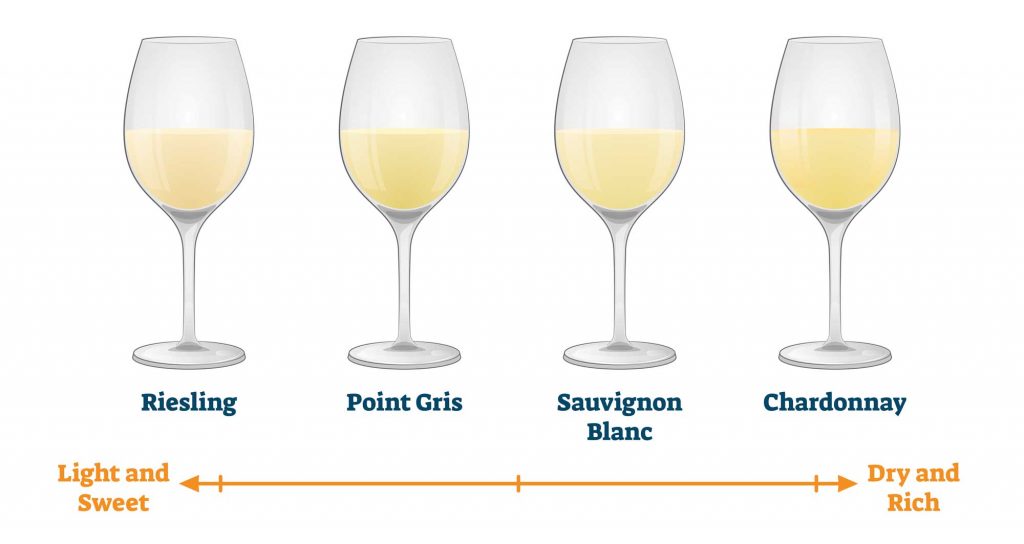 Major styles of white wine
The number of available white wines are increasing on a yearly basis, and selecting the appropriate white wine style can be confusing for many people. Here are a few basic white wine categories and varieties to help you make the right choice.
Bold and Dry: Strongly flavoured and often aged in oak barrels. Varieties include Chardonnay; Semillon; Marsanne; Vignier; White Rioja; Trebbiano
Bold and Sweet: A nice option for pairing with dessert. These include Ice Wine; Late Harvest Wine; Sherry; Madeira; Malvasia; Sauternes
Light and Sweet: Very aromatic and often with a hint of residual sugar. You may like to try Chenin Blanc; Riesling; Muscat Blanc; Torrontes; Gewurztraminer
Light and Zesty: Known for their light body and clean fresh taste. Varieties include Albarino; Chablis; Grenache Blanc; Cortese; Assyrtiko
Herbaceous: Usually light bodied with tantalising aromas ranging from sweet grasses to bell pepper. This category includes Sauvignon Blanc; Verdejo; Gruner Veltliner; Vinho Verde; Vermentino

White Wine 101
Check White Wine Prices on Amazon
Chardonnay
Chardonnay grapes are grown all around the world, and produce varied results depending on regional climate and growing conditions. It is famous in the French Burgundy region for its mineral qualities, while in Australia and California, Chardonnay takes on a tropical palate. It is particularly suited to fermentation in new oak barrels, picking up vanilla and toasty scents with a slight buttery aroma. Chardonnay is often made to produce fresh apple and citrus flavours. It is one of the more complex white wines, and it's worth exploring a variety of brands in order to get the full picture of this extremely popular style.
Chenin Blanc
The Loire Valley in France is probably the most famous region for growing Chenin Blanc grapes. Considered a very versatile wine, Chenin Blanc can be dry, sparkling or sweet, typically exuding floral aromas, noticeable acidity and apple or pear-like flavours.
Sauvignon Blanc
This is another grape variety that grows well in diverse regions around the world, resulting in a wide-spread reputation. The Sauvignon Blanc grape produces varied taste sensations during its ripening phases, with the taste further enhanced by soil minerality. It has become a signature white wine in New Zealand, where it displays an intense citrus or berry fruit flavour. Late harvest Sauvignon Blank can be blended with Semillon to make exceptionally tasty sweet wines such as Sauternes.
Riesling
The most well known of German wines in many parts of the world, Riesling can range from dry to sweet, and stony to floral in aroma. Apart from famous German growing regions of Mosel-Saar-Ruwer, Rheinhessen and Rheingau, the US and Australia both claim great examples of quality Riesling. The result is a wine that is much lighter than Chardonnay, and very well suited to pairing with lighter and delicate tasting foods. Riesling is a white wine that ages extremely well, often better than its red counterparts.
Muscat
Although Muscat is cultivated in many places around the world, all varieties are known for their penetrating orange aroma. Dry varieties exude sweetness, while Australian style Muscat is dense and luscious. Northern Italian Muscat is light and sparkling, while rich varieties are an ideal dessert accompaniment.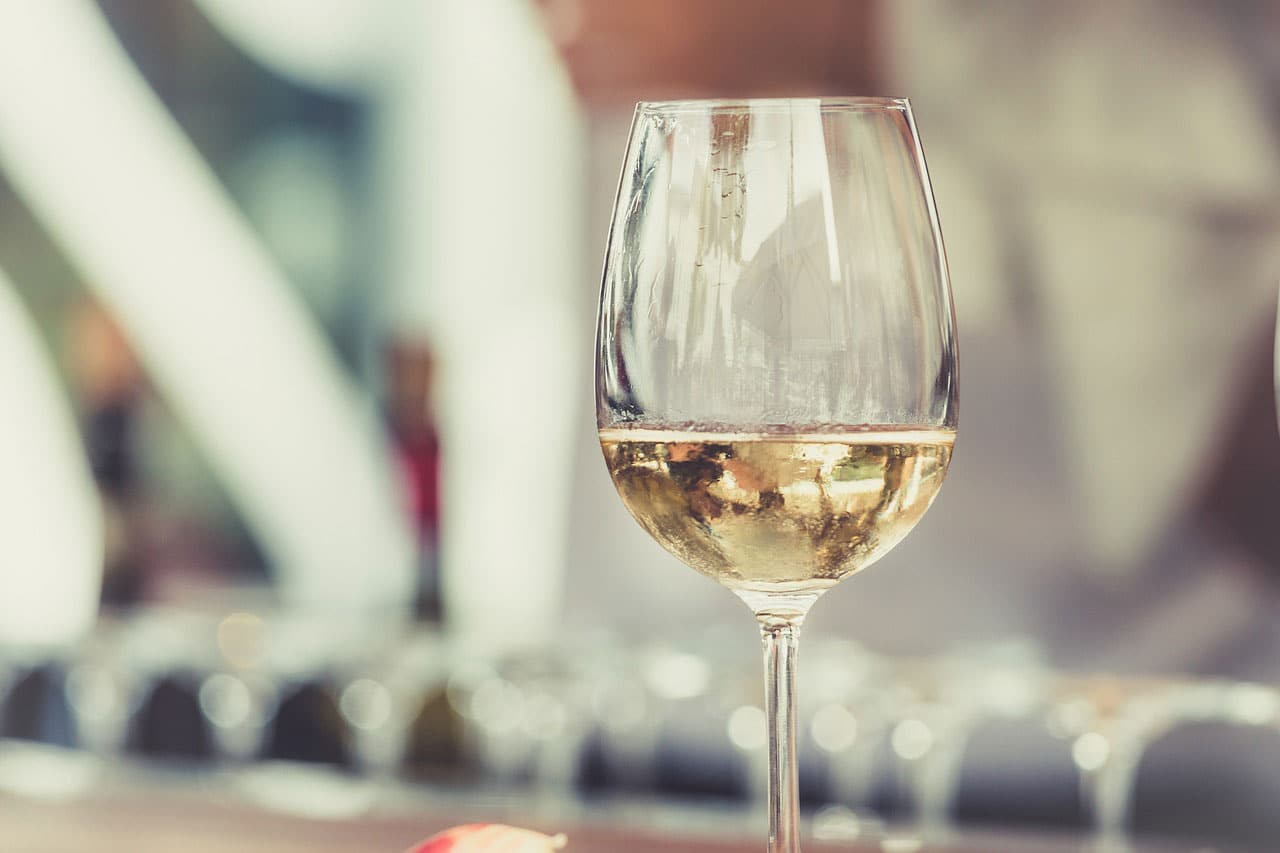 Semillon
This is another variety of white wine that can age nicely, increasing the subtle herb and spice flavours. Australian Semillon grape varieties, and those in the US state of Washington enjoy optimum growing conditions. Semillon can be manufactured as a bone-dry wine, or late-harvested to produce a classic dessert wine. Young Semillons emit an enticing aroma of figs or melons, with leafy characteristics becoming more prominent with aging. It can also be mixed with Sauvignon Blanc to balance the strong berry-like flavours.
Check White Wine Prices on Amazon
Pinot Gris/Grigio
This is a grape known by both French and Italian names and is one of the most popular white wines in the United States. Although light, it has plenty of body – a little more than Sauvignon Blanc – and provides a slight pear taste combined with a hint of minerals. Pinot Gris/Grigio is fresh and food-friendly, without any overpowering oak or alcohol taste that might otherwise limit food pairings.
Viognier
This white wine type hosts a heady aroma hinting at peaches, apricots and citrus. Viognier is considered a difficult wine to produce, with unripened grapes resulting in overriding bitterness, and grapes that are too old producing an unwelcome taste sensation. Varieties of Viognier produced in Australia and California lean toward the ripe and peachy end of the scale, and are an excellent example of grapes used to their full benefit. Viognier is also often blended with Syrah, providing an additional hint of citrus or flower to the finished product.
Roussanne
Hosting lime, citrus and stone-fruit flavours, Roussanne is a widely planted grape variety in the south of France. It has also recently become a favourite of growers in the US states of California and Washington. Roussanne is a full-bodied white wine with acids that make it an admirable blend with Marsanne.
Marsanne
The Marsanne grape variety is an important crop of the northern Rhone region, and is extremely versatile for blending with Roussanne, Viognier, and occasionally Grenache Blanc. This full-bodied wine with low acidity exudes personality, with aromas of peaches, pears and almonds prominent. Some of the oldest Marsanne plantings in the world are found in Australia; a country boasting climatic conditions suited to the growing of almost all grape varieties.
Gewurztraminer
This attractive purple grape variety produces an extremely aromatic white wine that is perfect for sipping as an accompaniment to Asian foods. Best known in the German district of Alsace, Gewurztraminer grapes are also grown on the west and east-coasts of the United States. It is a fruity flavourful wine that boasts aromas resembling rose petals, lychees, allspice and peaches.
Gruner Veltliner
Almost a third of all Austrian vineyards are planted with the Gruner Veltliner grape variety. Smaller plantings are also found in the US, Slovakia and the Czech Republic. However, none of these other regions have yet matched the flavours found in Austrian Gruner Veltliner. A broad spectrum of tastes are created in a variety of ways, adding an aura of mystique to this wine. Young versions display apple, peach and mineral notes, while varieties aged in oak casks provide peppery and spicy characteristics emboldened by a rich mineral quality. Gruner Veltliner manufactured at some low yielding vineyards is a highly regarded product by white wine buffs around the world.
White wine is exceptionally popular in warmer climates where it is served at room temperature or refreshingly chilled. It accounts for just under half of all wine production, and makes a fine counterbalance to red wines, with the perfect drop available for any occasion year-round. White wine is usually easier to drink and gulp in quantity compared to red wine, which is usually sipped and tasted slowly to experience the full flavour of the beverage. The heady affect of white wine is one reason it is more popular than red wines at festive social gatherings. And that's a fact worth celebrating.