When you think of wine, many varieties may come to mind, such as the well-loved Pinot Noir, Cabernet Sauvignon, and Merlot for red wine varieties and the Sauvignon Blanc, Chardonnay, and Pinot Grigio for the white wines.
With the wealth of varieties, there's always room for a pleasant surprise. One wine variety, while not as globally popular as the other wines, warrants your attention: the Sangiovese wine.
The Sangiovese wine comes with an interesting history and offers a subtle and complex taste that conjures up images of sunny Tuscany with its breathtaking landscapes, hilltop towns, scrumptious Tuscan food, and, of course, its wines.
In this article, we'll look at Sangiovese wines and why they're going to be your new favourite.
What is Sangiovese Wine?
Sangiovese wine is made from the Sangiovese grape, which is one of the grape varieties that are indigenous to Italy. It's a hardy variety that's able to endure and thrive in varies conditions. Depending on where it's grown, the grapes can produce wines with varied tastes. Factors, such as climate, terroir, and how they're processed, can also affect how the grapes and, in turn, the wines taste.
While they may be grown under different conditions, these grapes are typically characterized by their thin skins and fine tannins. One of the most well-known places where the best grapes and wine are grown and produced is Tuscany.
Already remarkable by itself, Sangiovese wine is also a core component of some of the more well-known wines, such as Chianti, Vino Nobile di Montepulciano, Brunello di Montalcino, and Carmignano.
In other regions, Sangiovese is known as Sangioveto, Sangiovese Grosso, Sangiovese Piccolo, Brunello, and Morellino.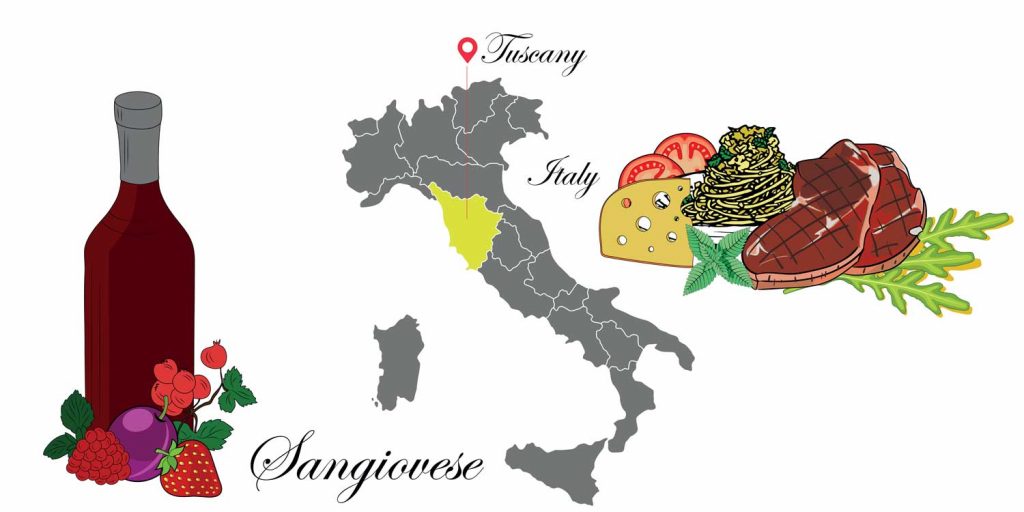 History and Origins
Sangiovese has a complex and fascinating history. Pronounced as "san-joh-vay-zee" or "san-joe-vei-zeh", it is one of the quintessential Italian wines.
Its name is derived from sanguis Jovis, or "The Blood of Jove", referencing Jupiter, the King of the Gods in Roman mythology. According to local legends, Sangiovese got its name from the ancient Roman monks who named the wine as a tribute to Jove or Jupiter.
It's commonly believed that its cultivation goes as far back as the 6th century by the Etruscans. In the past, Sangiovese wasn't the well-loved wine that it is now. It was cheap and readily available, but its quality varied largely. It wasn't until the 18th century when winemakers discovered that they could improve its taste by blending it with other grape varieties. Prior to the 1980s, particularly the period after the Second World War, the emphasis was on volume and not quality. This changed in the 1980s, with the refinement of winemaking techniques, quality became a crucial aspect for wine releases.
Check Sangiovese Wine Prices Online
Sangiovese Wine Regions in Europe and Australia
Sangiovese has been cultivated in Italy for centuries. Tuscany is one of the most notable regions for Sangiovese. However, it's not the only place in Italy, or Europe, for that matter, to grow this particular grape variety and produce Sangiovese wine.
It's worth noting that there are three regions in Tuscany that are crucial when it comes to Sangiovese production. These are Chianti, Montalcino, and Montepulciano. In the Old World, these grapes can also be found in other regions in Italy, including Umbria, Campania, and Romagna.
The grape itself is widely planted in regions outside of Tuscany. These areas include Corsica, Lazio, and Marche. The Sangiovese cultivated in Corsica, known as Nielluccio, has a distinctive "maquis" or macchia characteristic, owing to its environs, which is the "maquis" countryside, a scrubland that houses plants commonly used for perfumes, pharmaceuticals, and medical research. In Corsica, you can find maquis plants, such as mints, sages, and rosemary that contribute to the Nielluccio's characteristic taste.
In New World wine countries, you can find New World Sangiovese in the select regions, including the Barossa Valley in Australia, Napa Valley in California, and Mendoza in Argentina, where it was introduced to the country by Italian immigrants during the late 19th century.
Sangiovese came to Australia relatively late. It wasn't until the 1970s when Penfold's had their first trial run with cultivating it in Barossa Valley using Sangiovese clones from the University of California, Davis. The interest surrounding Sangiovese in Australia can be attributed to Mark Lloyd, who planted Sangiovese vines in McLaren Vale back in 1985. In Australia, Sangiovese grapes currently thrive in King Valley and McLaren Vale, both of which are areas that have moderate and continental climates.
Sangiovese is now known as one of Australia's original alternative varieties. Over the years, Australian Sangiovese has acquired a broad range of profiles, ranging from light to full-flavoured. Aside from King Valley and McLaren Vale, other top regions in the country that produce Australian Sangiovese include Beechworth, Clare Valley, and Heathcote. Australian Sangiovese, like Tuscany Sangiovese, is typically characterised by fruit-forward flavours, such as that of plum, black cherry, and herbs.
The Taste of Sangiovese Wine
The thing with Sangiovese wine is you won't exactly know what you're getting. As mentioned, its taste can differ depending on where it's grown, the soil types used, and how it's processed. Like Pinot Noir, it's a terroir-driven variety.
However, despite these differences, Sangiovese is known to have a versatile flavour profile and depth. It has fruity and savoury notes and a distinct, very fruity primary flavour, reminiscent of dark cherries, strawberries, or plum. It also has liquorice and herbal notes, as well as a complex blend of aromas that include leather, clay, brick, and tobacco.
You might also notice some fresh tea or dark chocolate notes when smelling Sangiovese.
Check Sangiovese Wine Prices Online
Food Pairing with Sangiovese
Given that Sangiovese is characterised by strong flavours and textures, it is best suited for pairing with barbecued or smoky meats, firm cheeses (such as fontina, mozzarella, pecorino, provolone, and romano), and rich dishes. It's also a great accompaniment to food that's rich in olive oil or butter. With its medium to high tannin content, Sangiovese can cut through fatty or rich dishes.
It's no surprise that Italian food and wine go together perfectly. Sangiovese is great for an Italian food fare or for pairing with rustic dishes. Think of rich and cheesy tomato-based pasta dishes, fried delicacies such as chicken liver, and slow-roasted meats. It's also great for pizza with tomato-based sauces.
You can also pair Sangiovese with foods that have acidic components, such as vinaigrettes or salads with balsamic dressings. If you're thinking of serving gamey meats, such as venison or duck, Sangiovese will do a good job of bringing out some sweetness from the meat without being overshadowed by it. Entrees that go well with Sangiovese include cold cuts and salami.
Before serving Sangiovese, place it in the fridge for about an hour and then leave it to cool in room temperature for another hour. The trick to serving Sangiovese is you don't want to be served chilled, but you don't want it to be at room temperature either. If you have a decanter, use it to aerate your Sangiovese for about an hour to let its subtle flavours rise.
Best Sangiovese Wines in Australia
Australian winemakers have been cultivating Sangiovese for decades now and have been producing some of the best wine in the country. Through their continuous effort and innovation Australian Sangiovese has slowly gained some much-deserved traction over the years. Australian wine producers and growers have been able to identify the best clones and the best regions for particular varieties, like how the Barossa Valley is home to Penfolds' Cellar Reserve Sangiovese and McLaren Vale with Lloyd's Coriole.
Want to jumpstart your Australian Sangiovese journey? We're delighted to share some of our favourites that'll match any budget.
Check Sangiovese Wine Prices Online
The Most Economical Choices: Bottles Less Than $20
Who says you can't have a good bottle of wine even on a budget? Each of our picks go below the $20 mark but won't compromise quality and taste over price.
2019 San Marzano Il Pumo Sangiovese – A flavourful and intense wine from the San Marziano winery in Puglia. Flavour notes are characterised by red cherry flavours and dried herbs.
2016 Geoff Merrill Barrel Select Sangiovese – Hailing from the McLaren Vale region, this Sangiovese has a strong flavour profile marked with fruity notes.
Budget-Friendly Alternatives: Less Than $30
These budget-friendly wines bring complexity and bold flavour profiles without breaking the bank.
2018 La Capagna Chianti Superiore DOCG – Produced from fruit grown from Alberto Antonini's family vineyards in Tuscany, this classic Chianti has savoury elements and vibrant fruity flavours.
2018 Bernerdeschi IGT Governo All'uso Toscano – This Sangiovese blend is produced in Tuscany. It's a medium bodied wine that's made from a blend of 70% Sangiovese and 30% Merlot.
If You're Feeling Generous: Bottles with the $50-$100 Range
In the mood for a celebration? These wines are a great accompaniment to any occasion.
2017 Castagna Un Segreto – This wine is produced in the Beechworth region and is a blend of Sangiovese and Shiraz. It has a spicy flavour profile that's mellowed out by its fruity notes.
2017 Castagna La Chiave Sangiovese – This Sangiovese capitalises on forestry scents of pine, mint, and anise, among others. It has a powerful and savoury flavour.
2017 Marchese Antinori Chianti Classico Riserve DOCG – Produced in Tuscany, this Sangiovese has a rich ruby red colour and is defined by fruity notes comprised of cherries and blackberries. It has a complex aroma profile that's characterised by aromatic herbs, tobacco, and milk chocolate.
Feel Like Splurging? Sangiovese Worth More Than $100
If you want to splurge on Sangiovese, these will definitely make a fine addition to your collection.
2015 Brunello di Montalcino – Hailing from Tuscany, this wine comes from the Voliero estate in the northern slopes of Montalcino, one of the key regions when it comes to Sangiovese production.
2016 Luce della Vite Brunello di Montalcino – A red wine with fruity aromas, this Sangiovese comes from Tuscany, a region renowned for its Sangiovese grapes and wine. This can be paired with roasts, stewed meats, and aged cheeses.
2017 Fontodi Flaccianello della Pieve – Boasting a bright, ruby red colour, this Sangiovese is accompanied by fruity aromas with a hint of spice. It brings a flavourful finish and has a rich palate complemented by supple tannins. It's produced in Tuscany by the Fontodi winery.
With the current selection of excellent Sangiovese grown and produced in the country, it won't be long before Australian Sangiovese reaches new heights and further contribute to the country's ever-growing export market. The Australian Sangiovese industry may still be in its youth, but its growth and continued development is something that Australian winemakers, wine lovers, and wine drinkers should definitely look forward to.
Check Sangiovese Wine Prices Online
FAQs
1. What is Sangiovese wine similar to?
While there's no arguing that Sangiovese wine is unique in terms of its flavour profile and tasting notes, if you're unable to get a hold of a bottle, there are some alternatives you can try. Given that Sangiovese is a fruit-forward wine, you can try Chianti or Chianti Classico. Another variety you can try that has a distinct cherry flavour with high acidity is Barbera. Shiraz is also a good pick, with its fruit and herb notes.
2. Are Sangiovese and Chianti the same?
The short answer is, they're not. When you say "Sangiovese", you're primarily referring to a variety of red grapes. Chianti is a type of wine that's produced in Tuscany's Chianti region. However, it's worth noting that Chianti wines are principally made from Sangiovese, which are then mixed with other grapes to create a more complex-tasting wine that's a bit different from Sangiovese wine.
Sangiovese is also not to be confused with Super Tuscans, which are also red wines from Tuscany. These are made primarily with Sangiovese, but they're also mixed with French grapes, such as Cabernet Sauvignon, and Cabernet Franc. They're also aged in new oak barrels.
3. What kind of grapes makes Sangiovese?
The Sangiovese grape is used to make Sangiovese wine. The dark-berried Sangiovese vine is a popular grape variety that's widely planted in Italy.
4. Is Sangiovese similar to Cabernet Sauvignon?
While they're two different wines, Sangiovese and Cabernet Sauvignon do share some similarities. Both are considered Old World wines that have medium to high tannin content and are aged in oak barrels. They differ in their tasting notes, in that Sangiovese is more of a fruit-forward variety, while Cabernet Sauvignon has less fruit-centric notes that can include leather, tobacco, vanilla, and cedar.
5. What is Vino Nobile di Montepulciano?
Heralded as one of Italy's most celebrated wines, Nobile is also known as "The King of Wines" or "Tuscany's Noblest Bottle". It's a Sangiovese-based red wine made from grapes grown around Montepulciano in Tuscany. Traditional blends required that Nobile be made from at least 70% Sangiovese and aged for a minimum of two years.
6. What makes Sangiovese grapes different?
These wine grapes are hardy and versatile. They're characterised by their high acidity, light body, and savoury flavours. They're also held in high regard, being that they're the only grape variety that can be used in making the prestigious Brunello di Montalcino DOCG. It's also used to produce another type of red wine, the Rosso di Montalcino. While Brunello and Rosso come from the same area and are made from the same variety of grapes, the latter is regarded as more youthful because they're released earlier. With regard to their versatility, they're used as a key component in making Sangiovese-based wines, such as the renowned Vino Nobile di Montepulciano and the ever-popular Chianti.
Check Sangiovese Wine Prices Online