Beaujolais, located south of the Burgundy region of France, is home to Gamay wine. Known for their delicate floral aromas and fruity flavours, the light-bodied Gamay wine tastes surprisingly like Pinot Noir. However, it costs far less.
Although Gamay wines have been around since the 14th century, it has yet to achieve the same popularity as Pinot. Still, it is worth looking out for. If you happen to come across a bottle of Gamay, you can prepare yourself for something special—without the hefty price tag.
What is Gamay Wine?
Gamay, also known as Gamay Noir, is a very old purple grape variety originating in the French wine-growing region of Burgundy. Much like Chardonnay and Aligote, it is related to the Pinot Noir grape. However, it has a higher yield because it thrives in sites and conditions that are too hostile for pinot.
Although Gamay is known for being an inexpensive alternative to Pinot, its price ranges anywhere from $20 to $400+. If you're from Australia, you can choose from a variety of wines at The Wine Collective. You have the 2018 Chateau de La Chaize Bourgogne Gamay Noir, which is cheap in price but not in taste. If you're looking for a mid-range option, the 2018 Marchand & Burch Morgon Gamay won't disappoint your palate. It has a deep purple hue with bright flavours and firm tannins.
If you're looking for a tangy, medium-bodied fruit-forward wine, the 2019 Georges Duboeuf Beaujolais Villages might be worth your while. You can taste hints of blackberry, dried strawberries and walnuts in every sip.
The Beaujolais Region: Where Is Gamay Grape From?
Fearing that the Gamay would overshadow Pinot Noir because of its prolific yield, it was banned in the region by the Philip the Bold, Duke of Burgundy, in the late 14th century. Growers from the Beaujolais region, who weren't affected by the order, continued to grow the grape variety for several generations.
In Gamay growing regions such as Beaujolais, the soil is made up mostly of granite, schist and limestone. The naturally acidic grape becomes even more acidic because of the alkaline levels in the soil. However, winemakers use carbonic maceration and fermentation to reduce the acidity in the final wine product.
The Beaujolais wine region was declared a Protected Designation of Origin (PDO) in 1937. About 75% of Gamay comes from there. To this day, winemakers in the region continue to produce different varieties of the red wine, including Cote de Brouilly, Moulin-à-Vent, Fleurie, Morgon and more.
Just North of Beaujolais, Gamay is grown and used in most Macon Rouge wines. In the Loire Valley, the grape is used to make rose, particularly Anjou and Saumur. Sometimes, Gamay is blended with Pinot Noir or Cabernet Franc.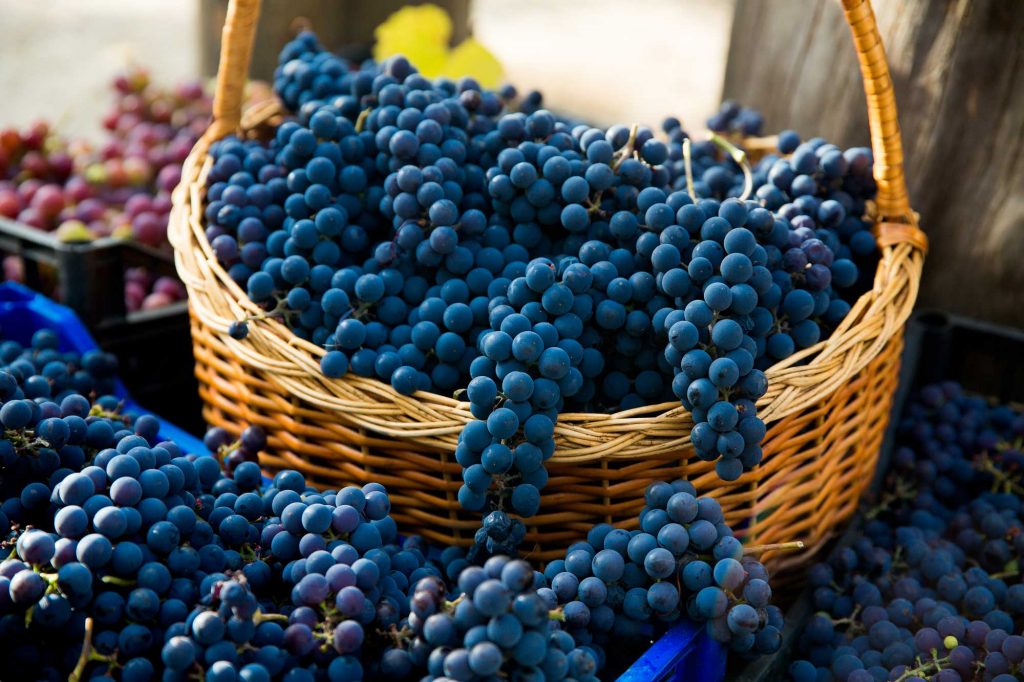 The Rise of Gamay Wines
There are 10 vineyards or crus in Beaujolais that produce premium quality Gamay wines: Brouilly, Chenas, Chiroubles, Cote de Brouilly, Fleurie, Julienas, Morgon, Moulin-à-Vent, Regnie, and Saint Amour.
Now, the Gamay grape is grown all over the world.
Gamay from USA
No one abroad knew about Beaujolais nouveau for the longest time. Its fame overseas was largely due to Georges Duboeuf, who started Nouveau in 1964. His wines were known for being easy to drink and affordable. At the prime of his label, he sold about 1.185 million nine-litre cases of Beaujolais Nouveau in the US. Over time, the wine's appeal waned, but it led to the rise of other wines from Beaujolais. For instance, exports of red wines and roses in the region eventually increased.
In California, you'll find different Gamay varieties such as Napa Gamay. Some are completely different varieties, while others are classified as Pinot Noir clones. True Gamay Noir a Jus Blanc are planted in cooler regions in California.
Gamay from Canada
Aside from the US, Canada has taken an interest in Gamay wines. The grapes are mostly grown in the Niagara Peninsula and Okanagan Valley. They grow original Gamay grapes across Southern Ontario, specifically in Prince Edward County and Chateau des Charmes. They also grow mutations of the grape, particularly Gamay Noir Droit in certain vineyards in the region.
These wine-growing regions produce light to medium-bodied reds, which taste like sour cherry and raspberry. In every sip, you can taste notes of cinnamon and black pepper. Like in France, Gamay grapes in Canada are used to produce blended rose and other varieties.
Gamay from Australia
It's said that Len Evans, a legendary gourmet and wine enthusiast, planted the first Gamay fruit in Australia in the 1970s. Bass Philip's Philip Jones and Sorrenberg's vines followed by planting more in the late '90s. Eldridge Estate, which is recognized as a specialist in Gamay, started around 2000.
As mentioned, Gamay is tougher than Pinot Noir. It can survive in sites and seasons that the latter can't. However, it thrives best at higher altitudes and cooler regions.
In Australia, Gamay is grown mostly in Tasmania, Mornington Peninsula, the Yarra Valley, Gippsland and around the Adelaide Hills.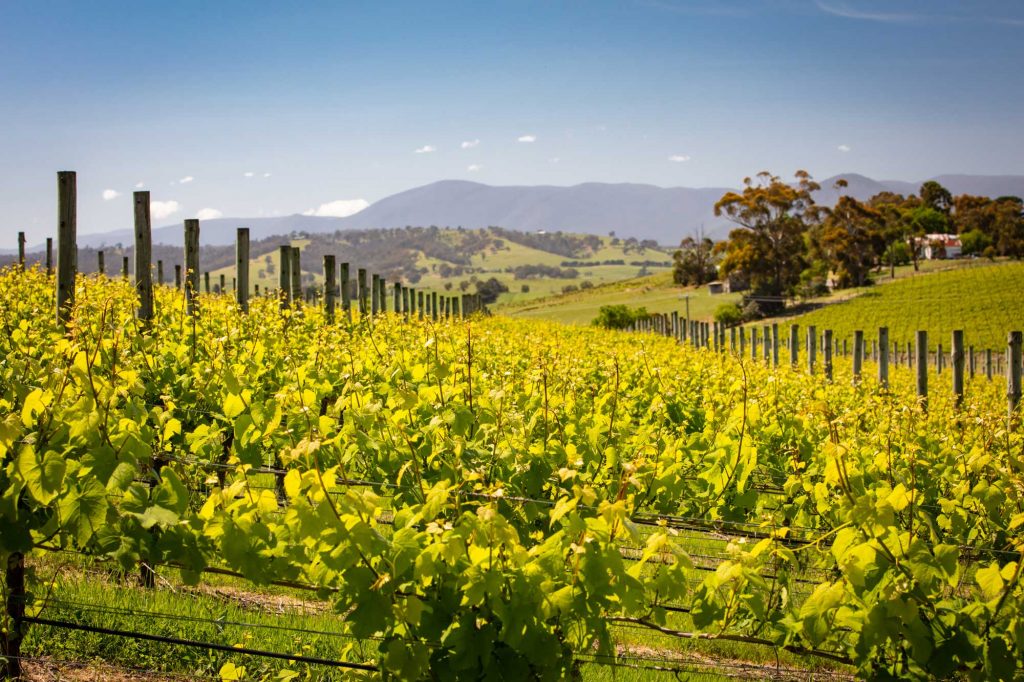 What Does Gamay Wine Taste Like?
Regardless of where the grapes are grown or how they are fermented, the Gamay grape variety will produce wines with a light body and delicate fruity flavours. The colour may range from deep ruby to rich garnet.
Aroma
Gamay may have floral and fruity notes on the nose. It has a candy-like sweetness to it. You can pick up primary aromas of red fruits, including strawberry, raspberry and sour cherries. You might also smell deep floral notes, such as violets, lilacs and other purple flowers.
Flavour
Beaujolais wines undergo carbonic maceration. Instead of stemming and crushing grapes, growers stuff whole grapes into fermentation tanks, which are then filled with carbon dioxide. This results in a fruity wine with soft tannins and bright acidity.
Gamay red wine is associated with red fruit flavours, such as strawberry, cherry, cranberry, currant, watermelon, and more. You might also taste bubble gum or banana if the wine underwent the carbonic maceration process. The Beaujolais cru, on the other hand, is known for having earthy and spicy notes.
As for Gamay grapes that are grown in warmer climates, they tend to yield concentrated black fruit flavours like boysenberry and juicy plum.
Sometimes, wines that are produced using carbonic maceration, including Beaujolais Nouveau, are best drunk young. Still, Gamay-based wines can age very well. Over time, the tannins soften, which leave you with a smoother finish.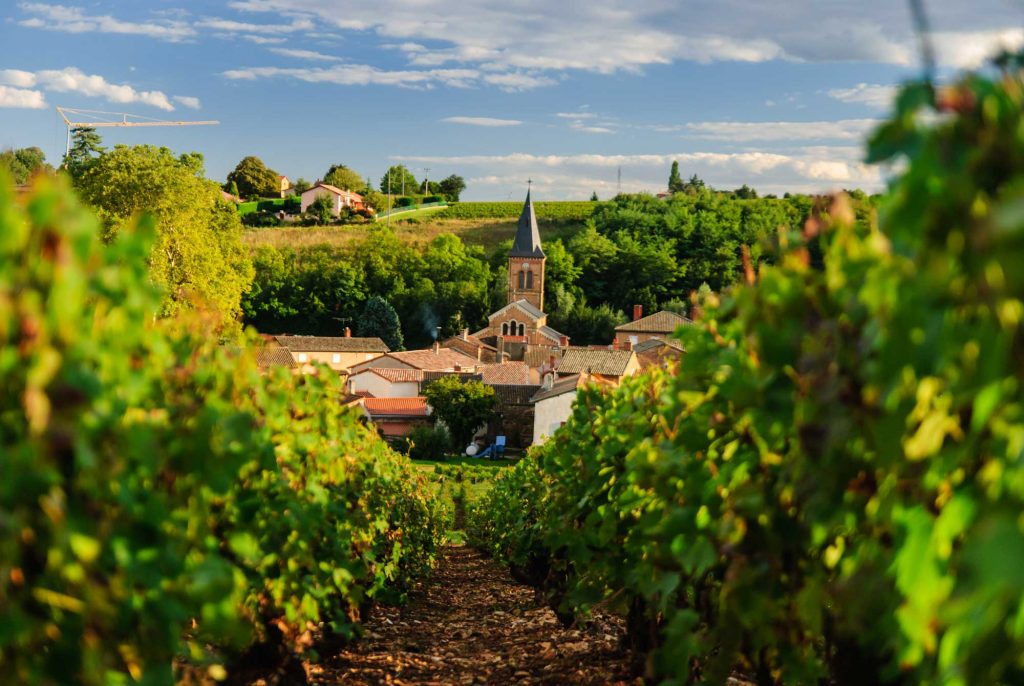 Great Food Pairings for Gamay Wines
Pairing Gamay wine isn't as difficult as it seems. From seafood to charcuterie, its light body and high acidity makes it an excellent choice for a broad range of cuisines.
For starters, the bright flavours of Gamay are great for light appetizers such as cheeses, olives and bread. Like other reds, Gamay pairs well with red meat like steak because it enhances the flavours of the fat. Its fruitiness shines best when paired with spice and herb-focused meats. Whether it be roasted chicken or spicy seared tuna, the fruity flavours of the wine as well as the savoury meats will shine through.
If you're pairing your Gamay with fish, you can opt for more fatty varieties like grilled salmon. You can even serve it with savoury or creamy fish dishes. Aside from fish, you can pair Gamay with seafood dishes, such as prawns and calamari.
If you're travelling to Gamay growing regions, you can try traditional wine and food pairings. In Burgundy, for example, they pair Gamay with Escargots a la Bordelaise.
In other regions in France, Gamay might be served alongside creamy rabbit dishes. The wine's acidity will cut through the creaminess, while its fruity flavours will complement the richness of the dish.
To get the best tasting red wine, make sure you're storing and serving your bottles at the proper temperature. Ideally, you should aim for a storage temperature of 55°F to 65°F. Like other light and fruity red wines, Gamay should be served chilled. After opening up a bottle, you should decant it for at least 30 minutes. This enhances the flavours, as well as aromas, of the wine.
You can decant your wine even without a decanter. Just leave the wine bottle open for an hour or so before serving.
If you have a wide-bowled Burgundy glass, pour your wine to experience Gamay at its best. The wide bowl is designed to help wine drinkers experience the aromas before every sip. It can also aerate the wine longer, allowing them to taste the most delicate flavours in the wine.
FAQs
What are the characteristics of Gamay?
Gamay is typically a light bodied and fruity wine. On the palate, it has flavours of red fruits, such as red cherries and raspberries. It also has deep aromatic floral notes of violets, lilacs and other earthy characteristics.
What is the difference between Gamay and Pinot Noir?
Although Gamay and Pinot Noir have similarities, they are two distinct wines. The former tends to be more floral on the nose with deep aromatic notes of violets and other purple flowers. It also has a higher minerality and acidity.
Is Gamay sweet or dry?
Much like Pinot, Gamay is a dry wine. The grape's thin skin is low in tannins, which brings out a dry sensation on your tongue.
What is Beaujolais Nouveau?
Of the wines made from Gamay, Beaujolais nouveau is the most well-known. It is a young wine, which is produced right after the November harvest. Back in the day, this red wine was made for French vineyard workers, which you could only get at local villages.
Does Gamay age well?
Yes. Gamay can age well. Ultimately, it depends on the type of wine you have. For instance, most fruity Gamay wines like Beaujolais Nouveau are best drunk within the first three years of their release. The Beaujolais cru vintage, on the other hand, might need an entire decade to reach its peak flavour.