The vast Australian continent is home to incredibly diverse climate zones that have resulted in surreal desert landscapes, tropical rainforests and snow capped mountains. Huge expanses of the country are also dedicated to agriculture and farming, which has been the backbone of the Australian economy since foundation of the nation.
For the past few decades, viticulture has become a mainstay of the Australian agricultural economy, providing a new lease of life to regional Australia and placing it well and truly on the map as one of the world's leading wine producing nations.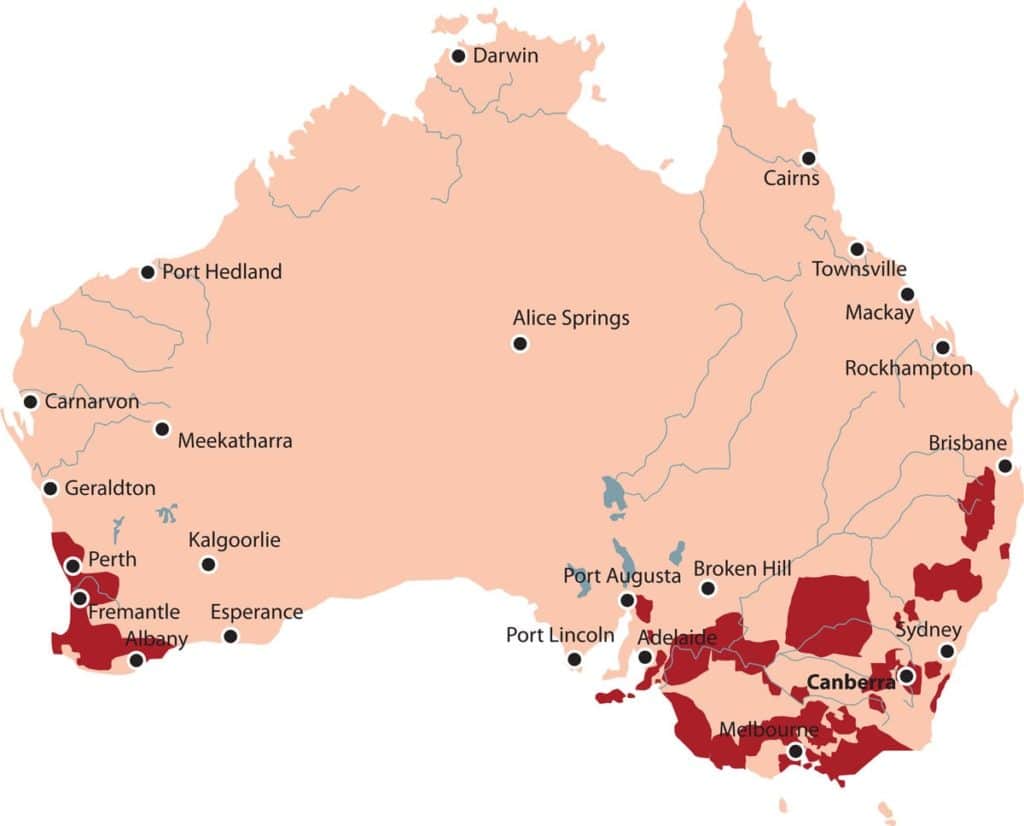 Almost all Australian states and territories contain large pockets of land that are perfect for growing wine grapes, and there are now more than 60 major wine regions around the country. A large percentage of Australian vineyard produce is Shiraz and Chardonnay, making up around 45% of total production, but opportunities abound for diversification and many growers are now also producing world-class Cabernet Sauvignon, Sauvignon Blanc and Pinot Noir along with a host of other uniquely flavoured and popular wine varieties. Here is a brief overview of some of the most famous and productive Australian wine regions.
Check Australian Wine Prices Online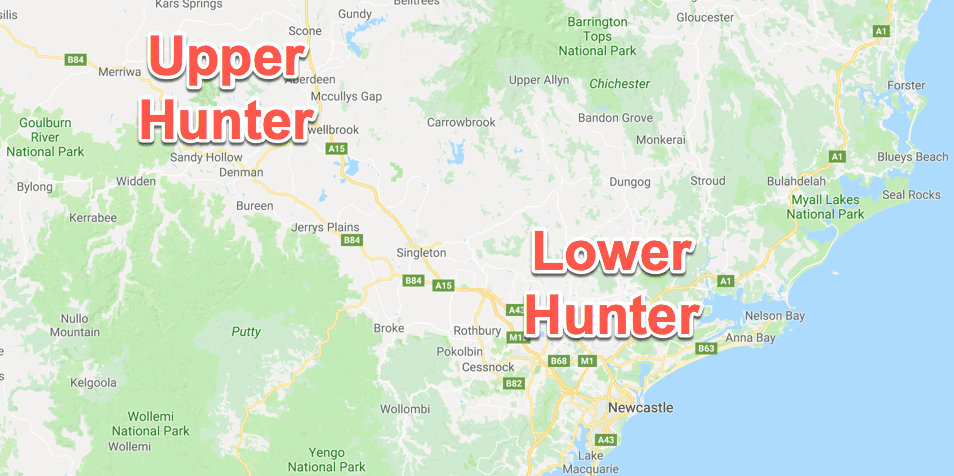 Hunter Valley
Approximately two hours drive north-west of Sydney is Australia's oldest wine growing region, the Hunter Valley. The area was noted early in Australia's settlement for its conducive grape growing climate, and since the 1820's there has been localised expansion both in the number of vineyards and the variety of grapes grown. The region is highly regarded as a producer of top-quality Hunter Valley Semillon, and has also been a forerunner in the introduction of a wide variety of wines including Shiraz, Chardonnay, Verdelho and Cabernet Sauvignon.
Many famous Australian wine families like McWilliams, Tulloch and Drayton established themselves in the Hunter Valley region, and their vision and success played a major role in the growth of Australia's wine industry. The internationally acclaimed Wyndham Estate is another iconic vineyard of the Hunter Valley, and one of more than 150 local producers that open their cellar doors for wine sampling.
Check Hunter Valley Wine Prices Online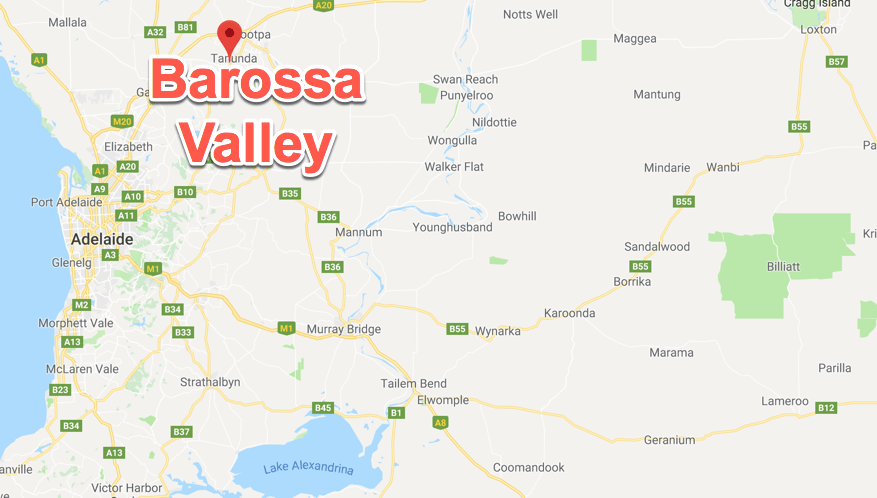 Barossa Valley
For old world charm, hospitality, and great wine, the Barossa Valley fits the bill nicely. Located about 70 kilometres from the South Australian capital of Adelaide, the Barossa Valley hosts diverse micro-climate zones that result in vineyards producing a dazzling array of fine wines. The history of wine production in the Barossa Valley dates back to 1842 and has benefited greatly by the influence of early German immigrants.
There are now sixth generation grape growing families in this region which boasts productive vines that date back to the mid 1800's, including the oldest Shiraz vineyard in the world. The diversity of growing opportunities includes cool-climate wine varieties, however the Barossa Valley flagship wine remains Shiraz, which is grown in low-lying warmer areas and accounts for around 50% of local wine production.
The Barossa Valley has also had a long tradition of fortified wine production, although this style doesn't dominate as much as previously. However, Seppeltsfield continues to produce high-quality fortified wines including their world-class 100 year old Para Liqueur. Jacob's Creek and Penfolds are famous names in Barossa Valley wine making, and locally produced Frenache, Riesling, Semillon and Mourvedre are all staking their claim as wines definitely worth trying. (You can read about the different types of red wines here.)
Check Barossa Valley Wine Prices Online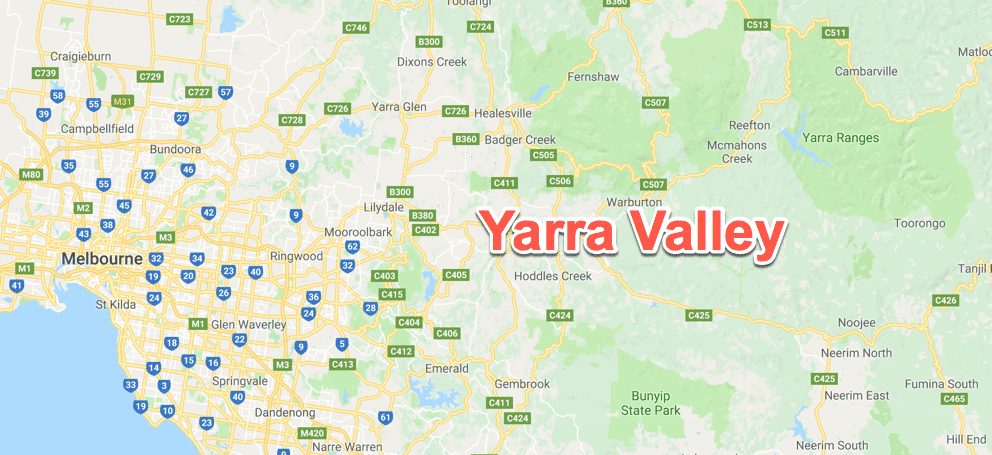 Yarra Valley
About one hours drive north-east of Melbourne you will find Victoria's oldest wine region, the Yarra Valley. Since 1838, the Yarra Valley has grown to become one of Australia's most significant cool-climate wine producers, and is especially renowned for its Pinot Noir and sparkling wine. At present, there are at least 80 wineries in the region, ranging from eclectic family operations to expansive estates. De Bortoli Yarra Valley Estate and Tarrawarra Estate are two of the most famous local names.
The Yarra Valley is renowned for its fertile soil and picturesque seasons that make this area a wine lovers paradise. 10th generation winemaker Ben Portet, originally from the Bordeaux region of France, is a typical example of those who have settled in the area, transforming his Dominique Portet Winery into yet another Yarra Valley success story. Great wine varieties making a name for the Yarra Valley include Chardonnay, Sauvignon Blanc and Shiraz.
Check Yarra Valley Wine Prices Online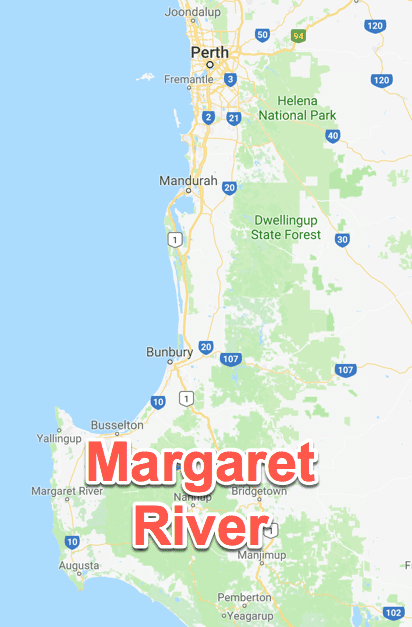 Margaret River
For almost every visitor to Western Australia, Margaret River is a must-see destination. The region is famous for its pristine natural beauty along with its equally famous vineyards. Margaret River is located 270 kilometres south of Perth, and is home to around 120 wine producers creating distinctive and high-quality Cabernet Sauvignon, Semillon, Chardonnay, Merlot, Sauvignon Blanc and Shiraz wines.
Major development of Margaret River as a grape growing region has occurred during the last 40 years, and it has already earned an international reputation as a home of quality wines. Locally produced Cabernet Sauvignon is a stand-out, providing a wine that is described as powerful yet elegant, and the local resume of great white wines is equally impressive. Premium Margaret River wineries include Xanadu Wines, Leeuwin Estate and Voyager Estate.
Check Margaret River Wine Prices Online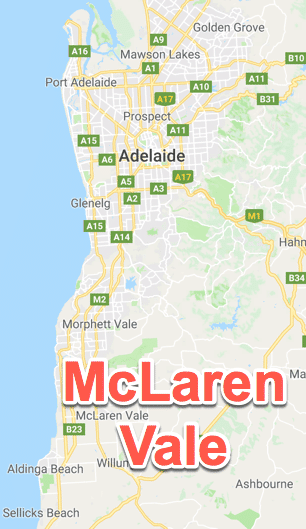 McLaren Vale
Another significant South Australian wine region is McLaren Vale, located around 35 kilometres south of Adelaide. Here you will find at least 65 wineries and approximately 270 grape growers taking advantage of the ideal Mediterranean climate. The first vines in McLaren Vale were planted in 1838, and the local economy is primarily one of boutique-sized wineries all located close to town, making McLaren Vale a hub of wine-based tourism in the region.
Regardless of the style, quality remains at the forefront, and locally produced Shiraz is renowned for its full flavoured fruit and deep colour. McLaren Vale Shiraz has tremendous storage potential, retaining its quality and taste for decades in the bottle. Other popular locally produced wines include Chardonnay, Grenache, Cabernet Sauvignon, Riesling and Merlot. This green wine region is surrounded by quaint villages, rugged coastline and rolling vineyards that result in a melting pot of artistic, culinary and wine-making flair.
Check McLaren Vale Wine Prices Online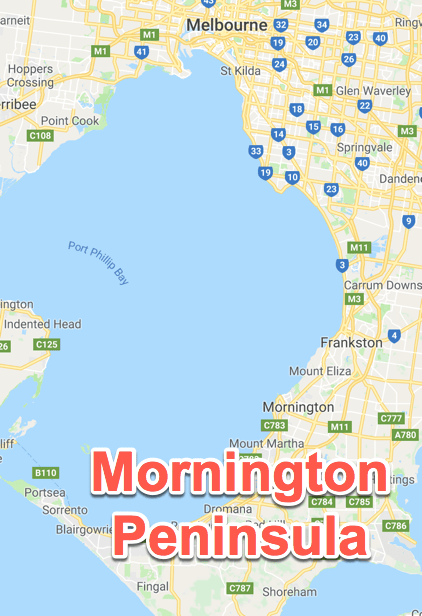 Mornington Peninsula
Located one hour to the south of Melbourne is the Mornington Peninsula, a region dominated by rolling hills, historic residences, orchards, and more than 200 vineyards. The favourably mild climate and natural topography is ideally suited to grape growing and wine production, most notably the highly-regarded local varieties of Pinot Noir and Chardonnay.
Although wine production on the Mornington Peninsula dates back to 1886, the area was 'rediscoverd' in the early 1970's, and has since blossomed. As with all major wine regions in Australia, the local economy has boomed on the back of vineyard plantings. The area is known to produce high-quality medium-bodied wines, sparkling wines and dry wines in diverse styles. For example, locally produced Chardonnay flavours range from citrus to tropical fruit tastes. The Mornington Peninsula has also embraced Pinot Gris and Tempranillo as local favourites in wine production.
Check Mornington Peninsula Wine Prices Online
From North to South
Apart from Australia's major wine grape growing regions in South Australia, Victoria, New South Wales and Margaret River in Western Australia, the other Australian states and territories have also caught on to the possibility of wine production. Tasmania actually has a long history of commercial vineyards and major expansion has taken place since the 1970's. Astute Queensland growers have also found success in altitudes around 700 to 1000 metres above sea level and some fine wines are being produced. Even the hot and humid Northern Territory has a small number of vineyards which utilise careful vineyard management and irrigation to produce mostly fortified wines around Alice Springs. Australian wines are considered some of the best in the world, and the great news is that the industry is still evolving and diversifying.
Check Australian Wine Prices Online