There are many things that can affect how wine tastes, and storage is one of them. There's more to proper storage than just stuffing your bottles wherever it's most convenient, which is why every wine connoisseur should always have a wine fridge at the ready.
Everyone knows that age makes all wine taste magnificent, but storage temperature also plays a crucial part in preserving flavour—so much so, in fact, that dedicated refrigerators were invented just to store bottles of wine. These specialised fridges create optimal storage conditions to keep your wine collection in top shape whenever you need them.
If you're someone who's looking for a wine fridge to keep your drinks cool and delicious, then here's a list of the seven best options you can find in Australia. Read until the end for some extra tips and tricks on how to properly store your vintage bottles!
As an Amazon Associate I earn from qualifying purchases.
Devanti is one of the biggest brands in Australia when it comes to electric home appliances. Although they are more popular for their air conditioners, heaters and cleaning tools, Devanti has also manufactured a line of wine refrigerators that speaks volumes about the quality of their products.
The Devanti Thermoelectric Wine Cooler is a high-precision, high-quality wine fridge that you're sure to love. It has a storage capacity of 12 bottles for the avid wine lover, and it's packed with essential features that will keep your wine tasting cool and fresh.
This cooler sports a precision cooling system with an easy-to-use touch control panel to help you make fine adjustments to temperature so you can match the requirements of specific wines. It also has a UV-resistant, dual-layered glass door for added insulation, a built-in LED light and even safety child locks for some extra peace of mind.
This Devanti 12-Bottle Thermoelectric Wine Cooler is sleek, stylish and fully functional. Overall, it's an excellent choice for a small, worry-free wine storage solution.
This wine cooler model is literally the big brother of the previously mentioned item and as such, it has much of the same qualities that make the first fridge great.
This larger variation of the Devanti Thermoelectric Wine Cooler has seen its maximum wine bottle capacity increase from 12 to 28 to allow for even more storage. Apart from the much larger size, this cooler also boasts the same high-precision cooling system, touch controls, insulation and safety features to keep your wine in the right conditions without making you worry about anything else.
If you want a quality wine fridge that can accommodate a larger collection of wine, then this is a perfectly viable option for you.
This Devanti refrigerator is slightly different from the previous ones. This one is actually a compact bar fridge that's meant for all manners of food and drink.
The Devanti Bar Fridge is perfect if you want a portable wine storage option that's versatile enough to be used for other beverages. It's great if you need a wine fridge that you can easily move around the house for dinner parties and barbecues or use as a personal refrigerator in your bedroom. It has five different temperature settings you can choose from and extra thick insulation to help with efficiency.
The range of this cooler goes from 0°C to 12°C, which is perfect for most wines. Its double-glazed glass door and insulation make sure that all of the fridge's contents are kept safe from UV rays that might otherwise affect them. Like the previously mentioned Devanti coolers, this bar fridge is a wonderful mix of form and function. If you're looking for something that you can use for more than just wine, then this one is a safe bet.
This beverage cooler made by Heller is a great alternative to the Devanti bar fridges above. The Heller beverage cooler has a 115L capacity for drinks of all types, making it great for almost any situation.
The cooler has a mechanical controller that allows you to adjust its temperature from anywhere between 3°C and 10°C for optimal wine storage. Its door has a large, tempered glass window that can resist tough blows that would break normal glass, eliminating the threat of most accidents.
This fridge also features adjustable racks. You can easily move the two powder-coated wire racks inside of it to make space for more items or to accommodate the size of some taller bottles that might otherwise not fit inside it. The Heller HBC115B Beverage Cooler is a straightforward fridge that can properly preserve the flavour of your wine.
The Heller HBC98 is the smaller variant of the HBC115B Beverage Cooler. This black metal fridge is a stylish addition to any wine lover's home that works for drinks of all kinds.
The HBC98 is a bar fridge that can hold approximately 35 bottles in its four chrome-plated, adjustable wire racks. It shares very similar features to its larger counterpart, with mechanical controls to adjust its temperature anywhere between 0°C and 10°C and a door with sturdy, clear tempered glass to protect its contents.
This bar fridge is an excellent option for keeping your wine at its best possible condition in the long term, and it's also great for keeping wine and other drinks properly chilled during a party.
6. Grand Cru 320 Wine Fridge
The Grand Cru 320 is one of the better wine cabinets on the market for long-term wine storage. With a whole host of features that can cater to a wide variety of vintages, this high-capacity cabinet is perfect for in-home cellars.
The Grand Cru 320 is an absolute tower—it can safely store up to 293 Bordeaux-style bottles (or about 270 bottles of different sizes) inside its vibration-free storage compartment that has 10 slide-out wooden shelves and a door with double-glazed tempered glass. The fridge's fine, matte black finish makes it incredibly pleasing to look at as it proudly displays your wine collection.
Internally, it features a single temperature zone that ranges from 5°C to 22°C. You can easily and accurately alter this via the in-cabinet touchpad control that has an LED display for precise adjustments. This fridge can take care of your wine bottles even during winter thanks to the PTC heating technology that it uses.
Overall, the Grand Cru 320 is definitely a must-have for avid connoisseurs who want to have a beautiful yet fully functional drink cabinet to store their collection in.
7. Grand Cru Pro 194P
The Grand Cru Pro is a premium wine fridge for those who want an in-home wine cellar solution and have a penchant for showmanship. This fridge was designed to bring the best care possible to your wine collection while also making it as presentable as possible.
Much like the 320, the Grand Cru Pro uses a vibration-free storage compartment that holds 194 Bordeaux-style 750ml bottles (170 for other sizes) but what sets it apart from its bigger counterpart is its ability to swap between four different temperature ranges: 5-22°C, 2-20°C, 10-19°C and 0-20°C. This allows the Pro 194P to store a wider variety of wines at their optimal storage temperatures. The soft-touch LED panels make adjustments a breeze, and PTC heating makes it great for winter.
The Grand Cru Pro boasts 13 telescopic, 3-stage slide-out wire shelves with ID shelf labels, finished with a fine, wooden trim and illuminated by 3-staged, multi-coloured LED lighting.
This is the perfect premium option for putting your collection on display.
Wine fridge recommendations
The title of Best Wine Fridge Australia is a difficult one to bestow to any one brand, so instead, here are two products on this list that you should definitely try out.
For avid wine lovers who want a small fridge to keep a humble collection of wine prepped and ready for any occasion, the Devanti 12-Bottle Thermoelectric Wine Fridge shines as the best small wine fridge on this list thanks to its ability to change temperatures.
On the other hand, the Grand Cru Pro is arguably the best option here for a cabinet-style large wine fridge for large collections. It can cater to a wide range of wines thanks to its multiple temperature ranges, large storage space and its other features that make it stand out among wine cabinets as a stylish option.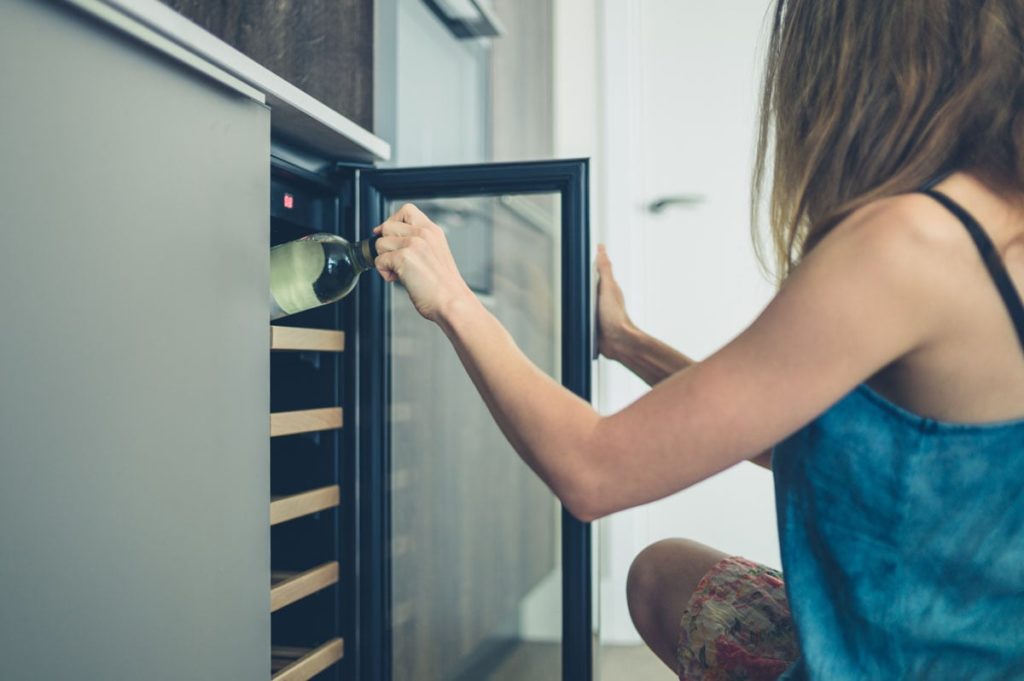 Buyer's Guide to Wine Fridges
Wine fridges are very straightforward, but there are a few things you should know about wine storage and coolers before you go out to buy one.
Temperature Range and Fluctuations
These types of refrigerators are meant specifically to maintain wine within certain temperatures to preserve their quality. It's important to know exactly what ranges of temperature certain products can reach, especially if you plan on keeping a collection of a specific type of wine since reds and whites have different optimal storage temperatures.
On the other hand, temperature fluctuations can cause air to react with the ingredients in a bottle of wine, dampening its flavour. Wine fridges that can provide a consistent temperature level are essential to keeping your wine safe from potential 'damage'.
Temperature Zones
Some wine fridges have multiple zones inside their compartments that allow different bottles of wine to be stored at different temperatures. This is an important feature if you plan on storing multiple wine types in a single refrigerator.
Humidity Control
Some wine fridges can control their humidity to help wine age better by keeping relative humidity at a constant level (usually around 70%). Not all products have this humidity control feature, but if you want to have well-aged wine, then this is going to be a must-have for you.
Vibrations
Vibrations can actually cause the flavour of your vintages to change over time as the sediments within them get knocked out of place. Such vibrations can be caused by a refrigerator's fans or by manual movement of the shelves.
In wine cabinets, wooden shelving is often a better choice than metal shelving since it's easier to pull and thus causes fewer vibrations, although it does tend to eat up storage space.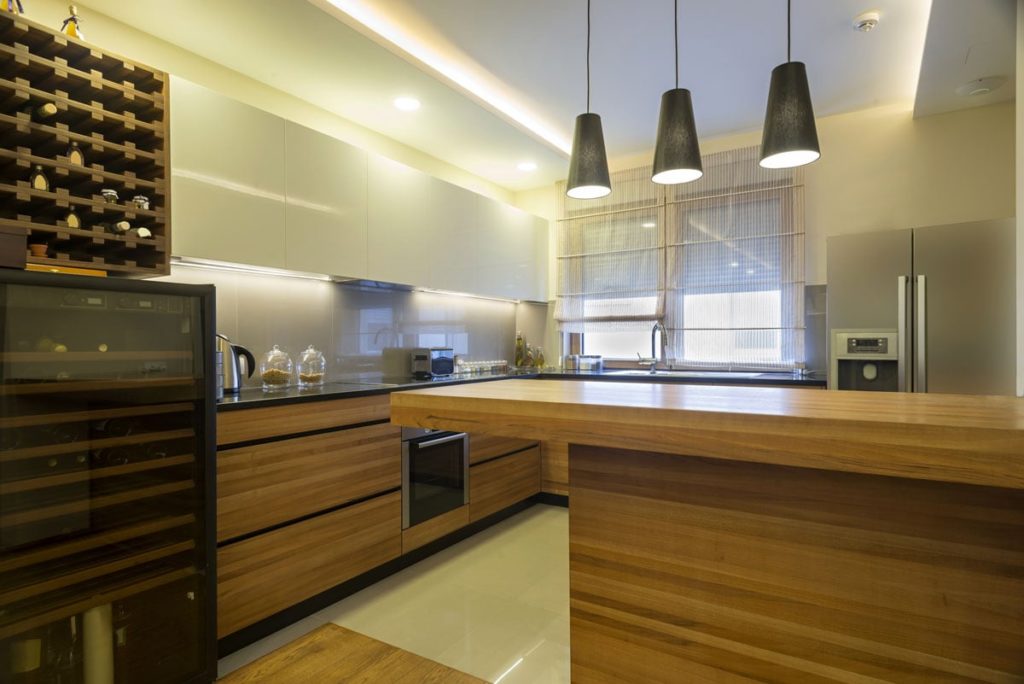 Frequently Asked Questions
Q: Can a wine cooler be used for beer?
A: Yes. Beer behaves much like wines in the sense that different types of beer end up tasting better if they're stored in certain temperature ranges. Light beers like lager or wheat beer can be safely stored alongside lighter wines, while heavier beers such as dark ale are better off stored together with darker wines.
Q: Can you put red wine in wine fridges?
A: Yes, but it's important to note that red wine has a different recommended storage temperature than others. If you're going to put a bottle of red wine in a wine fridge, either make sure that the fridge only has other red wines in it, or that it can support two or more temperature zones.
Q: What temperature should wine fridges be in?
A: That depends on the type of wine you're storing. White wine is usually kept at 8-13°C while red wine is stored at 14-20°C. A dual-zone wine fridge is suggested if you plan on storing multiple kinds of wines in one compartment.
Q: How much do wine fridges cost to run?
A: It depends on their size and overall power consumption, but wine fridges are generally very power-efficient. The cost of running wine fridges is typically lower than the normal kitchen refrigerator.
Q: What's the difference between a kitchen fridge and a wine cooler?
A: Other than size and structure, the average temperature of wine coolers is lower and more consistent than that of a kitchen fridge to prevent your drinks from being too warm or too cold.
Additionally, wine fridges require more consideration. Unlike normal refrigerators, wine fridges should be placed in spots that are warm or dark, so that the drinks inside don't go bad.
Check wine fridge prices on Amazon