Pristine waters, clean fresh air, mild summer temperatures and long autumn days—these are the elements that create the perfect setting for growing the best varieties of grapes in Tasmania, Australia. The cool climate and fertile soil allow grapes to ripen slowly on vines, enabling them to retain their natural acidity while developing a rich variety of flavours that are best for wines. Placed in the hands of the best winemakers, these fine grapes are marvellously transformed into exquisite wines that are unparalleled in quality and taste.
Thus, the popularity of Tasmanian wines all over the world comes as no surprise. In fact, Tasmania has an international reputation of being the foremost producer of the best cool climate wines, such as the Sauvignon Blanc. Many Tasmanian winemakers are awarded for the best sparkling wines and the best Chardonnay Pinot in the wine shows they join.
Check Tasmanian Wine Prices Online
How Many Wineries Are There in Tasmania?
Nearly 200 wineries use grapes harvested from over a hundred vineyards that occupy around 2,000 hectares of fertile soil across Tasmania. These vineyards are spread throughout seven major wine growing regions: Tamar Valley, North East area, the East Coast, the North West, Derwent Valley, Coal River Valley and Huon Valley.
Unlike typical vineyards tilled on flat land, Tasmanian vineyards are often built on the slope of a hill or the curve of a valley. The location and elevation help produce high-quality grapes, and consequently, better-tasting wines. This is why wines from Tasmania are diverse and distinctive. To find the best Tasmanian wine, you may explore attending cellar door tours or wine shows where you can sample some of the best wines.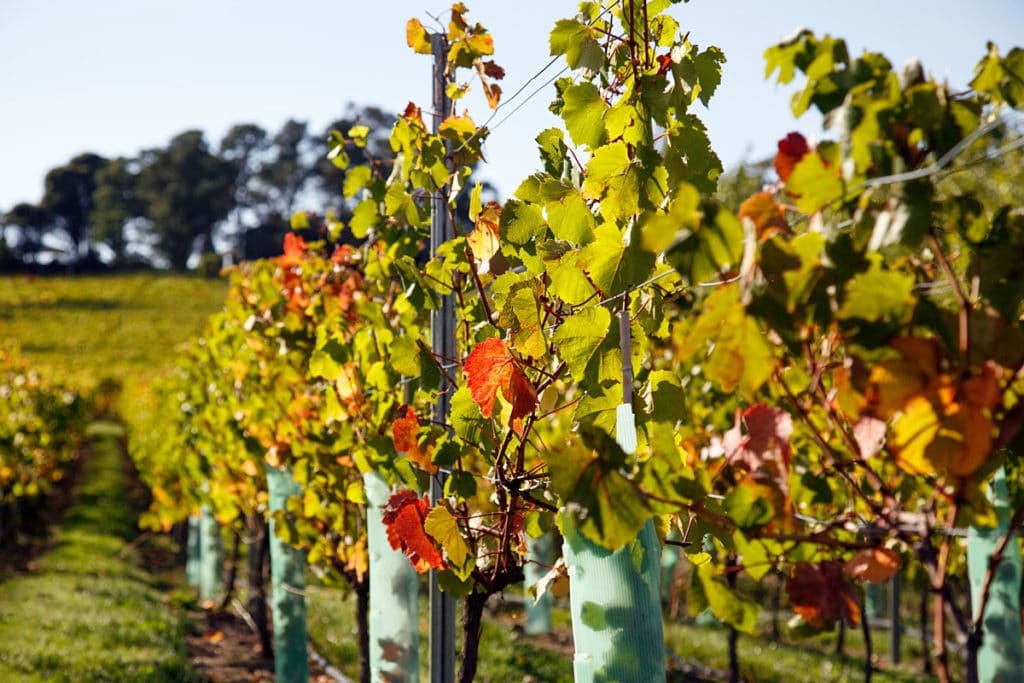 Varieties of Wines in Tasmania
Located in the Southmost part of Australia, Tasmanian wineries produce a rich variety of the best cool climate wines in the world. These include wines such as Pinot Noir, Chardonnay, Riesling, Cabernet Sauvignon, Sauvignon Blanc, Pinot Gris, Gewürztraminer and Merlot. Almost half of the wines produced by the island state is Pinot Noir, while Chardonnay accounts for a quarter. Chardonnay Pinot Noir blends are also popular Tasmanian wines.
Check Tasmanian Wine Prices Online
10 of The Best Wines in Tasmania
Unless you're a wine connoisseur, a sommelier, or a frequent cellar door guest, selecting the best wines can be challenging. It's tougher if you can't even distinguish Pinot Noir from Pinot Gris, or Sauvignon Blanc from Cabernet Sauvignon. Sampling different products in wine shows or cellar door tours may help you discern one kind of wine from another, but the differences in wines are often very subtle. Wines crafted from the same region in Australia can even have seasonal variations. So, to make your choice easier, we have curated the best wines from the finest viticultural regions of Tasmania. Most of these wines would be available in a wine show or a cellar door near your area.
2018 Shy Susan Riesling
2018 Bay of Fires Eddystone Point Riesling Wine
Arras Brut Elite NV Wine
NV Jansz Tasmania Premium Cuvee Wine
NV Anon Tasmanian Sparkling Cuvee Wine
2018 Anon Pinot Noir
Check Tasmanian Wine Prices Online
2015 Eileen Hardy Chardonnay
2009 Arras Vintage Rose Wine
2017 Dalrymple Pinot Noir
2018 Ninth Island Riesling Wine
Cheers to Choosing the Perfect Wines
Wines aren't called the nectars of gods for nothing. Aside from enhancing the flavour of food and making social gatherings more enjoyable, it also brings a host of health benefits, including reducing the risk of cardiovascular diseases. Purchase only the best wines made from the freshest fruits grown in fertile vineyards. These include the wines crafted in the rich regions of Tasmania.
Check Tasmanian Wine Prices Online