Do you want to know what it's like to combine the best two things in the world? If you have ever paired wine with cheese, we are sure you know. But not all wines are compatible with all sorts of cheese. You can pair your favourite wine with your favourite cheese, but if the flavour and intensity do not match, the taste will be awful.
All wine lovers know their favourite wine pretty well. As pinot grigio is considered a beginner's wine, this blog post is a beginner's guide to the best wine and cheese pairings. So sit back, prepare to sip your pinot grigio with some soft cheese, and read on to get insights on creating the best wine and cheese pairing experience.
The Top Wine and Cheese Pairing for Beginners
Sauvignon Blanc and Goat Cheese
Red Wine and Blue Cheese
Cabernet Sauvignon and Aged Cheddar
Champagne and Mozzarella
Pinot Noir and Parmigiano Reggiano
Chianti Classico and Grana Padano
Chenin Blanc and Brie
Chardonnay and Smoked Gouda
Pinot Noir and Aged Gouda
White Wine and Camembert
1. Sauvignon Blanc and Goat Cheese
While pairing wine and cheese, you should take note of the different flavours you have to work with. As goat cheese has a slightly bland taste, the intense flavours of sauvignon blanc make a perfect match. The flavour of the wine is robust, but it doesn't subdue the taste of the cheese. This pair lets you feel the flavours of both items simultaneously. You can feel the goat cheese's buttery texture melting on your tongue. Creamy cheese always makes a good pair with such crisp wines.
Pros
Good for beginners
Taste is not too intense
Easily accessible wine and cheese
Best for all occasions
Easy to prepare
Cons
Old sauvignon blanc's taste can be sharp
Sour taste
Check Sauvignon Blanc Prices Online
2. Red Wine and Blue Cheese
Blue cheese is often called the master of all cheese. Pairing a classic cheese with a decent wine is a pleasant combination you can hardly achieve with other recipes. Also, red wine can give you a taste of heaven when paired with blue cheese. You can never go wrong with red wine and blue cheese. Bordeaux blends and dry rosé are the best in the category.
Blue cheeses are crumbly, creamy, and great with fruity red wines, as the tartness and spiciness of wine work well with the semi-sweet cheese. You must try it with the love of your life to make this experience even more delightful.
Pros
Best for classic red, sweet wine lovers
Sweet flavour
Safe for wine lovers generally
Easy pairing
Always gives good results
Cons
Quite intense flavours for beginners
3. Cabernet Sauvignon and Aged Cheddar
If you have ever tried aged cheddar, you know there's nothing better. But pairing it with cabernet sauvignon takes your experience to a whole new level. As aged cheese has deep, developed flavours, it goes well with the thick and tarty wine. Aged cheddar is often called hard cheese and is a delight to chew while the wine goes down your throat.
So if you are the type of wine drinker who loves fruity wine and flavourful cheese, this combination is for you.
Pros
Perfect sweetness
Minimal acidity
Will not cause stomach upset
Best for those who prefer thick wines
Cons
Aged hard cheese is not easy to find
Check Cabernet Sauvignon Prices Online
4. Champagne and Mozzarella
French champagne and French mozzarella, we assure you will end up saying, "C'était très bon." Champagne is one of the best sparkling wines, and when you combine it with mozzarella, the intense flavour melting on your tongue will surely leave you with an unforgettable experience.
When you combine sparkling wine and cheese from the same region, the flavours are so delicious – you can't resist them. Being easily accessible, this can be your go-to combination.
Pros
Easily accessible wine
Good blend for the palates
Suitable after meals
Perfect taste
Cons
Low alcohol concentration in champagne
Check Sparkling Wine Prices Online
5. Pinot Noir and Parmigiano Reggiano
The tartness and nutty flavours of the wine work their best in this combination. Parmigiano Reggiano is a nutty, complex, and salty cheese. Pinot Noir, on the other hand, is acidic and super smooth.
When you combine these two, the flavours blend in so well as the wine's sweetness balances the cheese's saltiness. Also, you can pair Pinot Noir with almost all soft cheeses, so it's a great wine choice.
Pros
Perfect for those who prefer salty cheeses
The sweetness and saltiness blends well
Straightforward pairing procedure
Can sit for long hours
Excellent for all occasions
Cons
Not for people with anaphylaxis
Check Pinot Noir Prices Online
6. Chianti Classico and Grana Padano
Grana Padano is a hard, crumbly, and grainy cheese, and it is different from other hard cheeses as it melts swiftly in your mouth. Chianti Classico originated in Italy and is pretty dry compared to other red wines.
When combined to get a blend, the flavour is a bit dry but not in a way that feels terrible to swallow. It is challenging to get your hands on an original Chianti Classico, as the concentrations of the ingredients are often changed to make it cheaper.
Pros
Suitable for dry wine lovers
Pleasant taste
No risk of allergies
Cons
The wine is not easily accessible
7. Chenin Blanc and Brie
Best known for its use in baking, Brie cheese is best as a young cheese, and it is soft, smooth, and comparatively sweeter than other soft cheeses. It also carries nutty flavours, and Chenin Blanc also has nutty and wood tones.
Combining these two foods might not be the top best, but a great experience. Trying the Chenin Blanc and Brie combination is truly one you should take advantage of. Made from pure cow milk, brie cheese is very smooth and pairs well with the smokey wood tone of the wine. It is best used for dinner nights or on special occasions.
However, using this combination regularly is not a good option, as the taste can become overwhelming after a few sips.
Pros
The fruity and nutty flavours combine well
Easily accessible wine and cheese
Fast preparation
Smooth taste
Cons
Might be too intense for some people
Check Chenin Blanc Prices Online
8. Chardonnay and Smoked Gouda
The best way to prepare Smoked Gouda is to smoke it carefully in brick ovens. Surprisingly, this cheese is excellent for your health as it is rich in calcium. It is a creamy, buttery, perfect balance of salty and sweet flavours. It tastes so good you will keep coming back for more.
Chardonnay is an oaked wine that goes well with Gouda's smoked flavours. It comes under the category of white wines and is considered the best in the category, and the combination is best on a winter night.
Pros
Smoked Gouda gives a new pleasant twist
Best for people who love thick wine servings
Best for cold nights
Good blend for meals
Cons
Both wine and cheese are pretty expensive
Check Chardonnay Prices Online
9. Pinot Noir and Aged Gouda
Aged Gouda has a different texture than normal Gouda. It becomes slightly hard over time. But with the hardness of the cheese, the smooth and buttery flavour is a delight to the taste buds.
The acidic and light notes of Pinot Noir work well with the hardness of aged Gouda. The flavours blend and leave you wanting more. Though it is hard to get pure-aged Gouda, the experience you get is worth the struggle.
Pros
Aged Gouda is better than normal Gouda
Pinot Noir is light and balances the heaviness of the cheese
Fast and easy recipe
Always gives good results
Cons
Finding a well-aged gouda is very difficult
10. White Wine and Camembert
Like Brie, Camembert is also a creamy cheese, and it is ripe, soft, moist, and has a nutty and garlicky flavour. It has a lot of flavours, and you can taste every one of them; surprisingly, they all blend so well.
People often argue that white wine is better than red wine when paired with cheese. Combining the two blends is a great idea because the result is always fantastic. Apart from the flavours, white wine has a great scent.
Pros
White wine has a better flavour
The intense flavours of both cheese and wine leave a lasting taste in your mouth
Good choice before or after meals
Satisfying drink
Cons
A little too expensive compared to other soft cheeses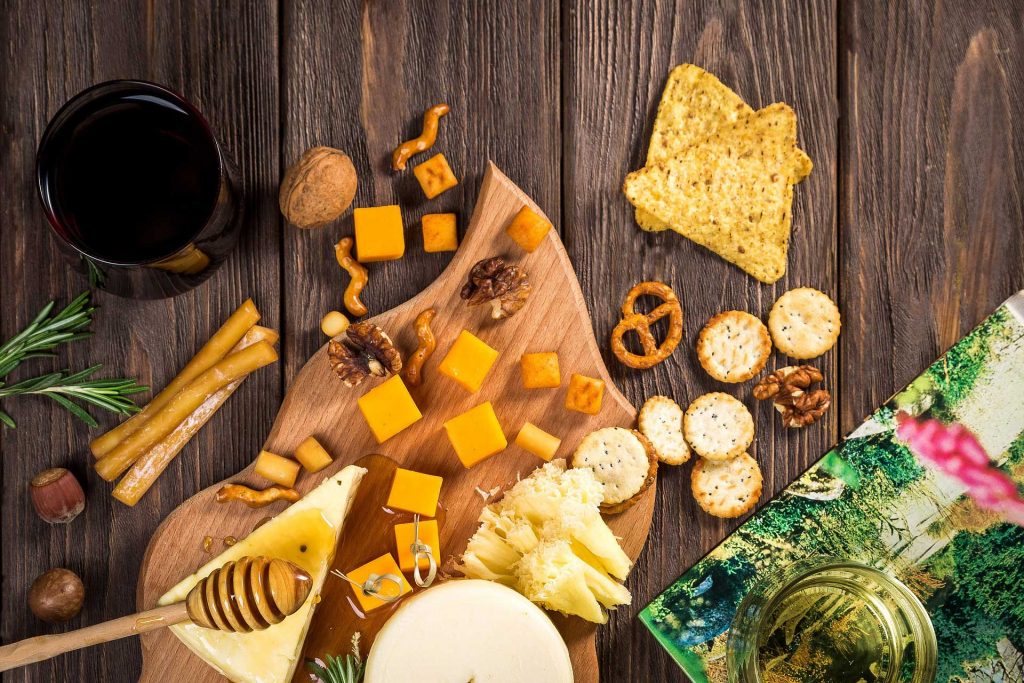 Buying Guide for the Best Wine and Cheese Pairings
Wine and cheese are no doubt the best supplements ever to exist. Know that you're in for a treat by pairing these two. Combining wine and cheese is an art; if you choose the wrong flavours, you will end up disappointed.
It would be best if you looked through several factors before preparing your cheese board. Different cheeses work well with different wines. And quality is always better than quantity. While buying the cheese and wine for your combinations, keep in mind the following factors.
● Aged Cheese
There is no doubt in saying that aged cheese works best with wine. But buying pure and organic aged cheese requires some skills. You should always do a taste test before buying aged cheese and ensure that it is crumbly and hard but has a smooth texture. Also, always aim for cheese aged for more than five years.
● Flavour and Intensity
While combining cheese and wine, balance the flavours and intensities. If the wine and cheese have salty flavours, it will not make a good combo. Different wines have different acidity levels, and fruity wines work well with semi-sweet cheeses. You need to keep an eye on the flavours because the tones and textures can make a huge difference.
● Region
When buying cheese and wine, combining the ones from the same region is best. The names might be the same, along with the ingredients, but animals consume different feeds. This can change the flavour of the cheese to some extent. So when you combine these two from the same region, it will be more flavorful and less risky.
● Wine
As the saying goes, quality is better than quantity. A good quality wine is better than a cheaper wine. No matter how cheap the wine is, it is nowhere near the taste of good and original wine.
It is difficult to do so, but once you try what fresh wine looks like and how the flavour melts on your tongue and goes down your throat, you will forget every young wine you have ever tried. However, it is better to spend a little extra to make your experience the best one. Also, buying wine straight from the factory is the best approach. And even this is an understatement.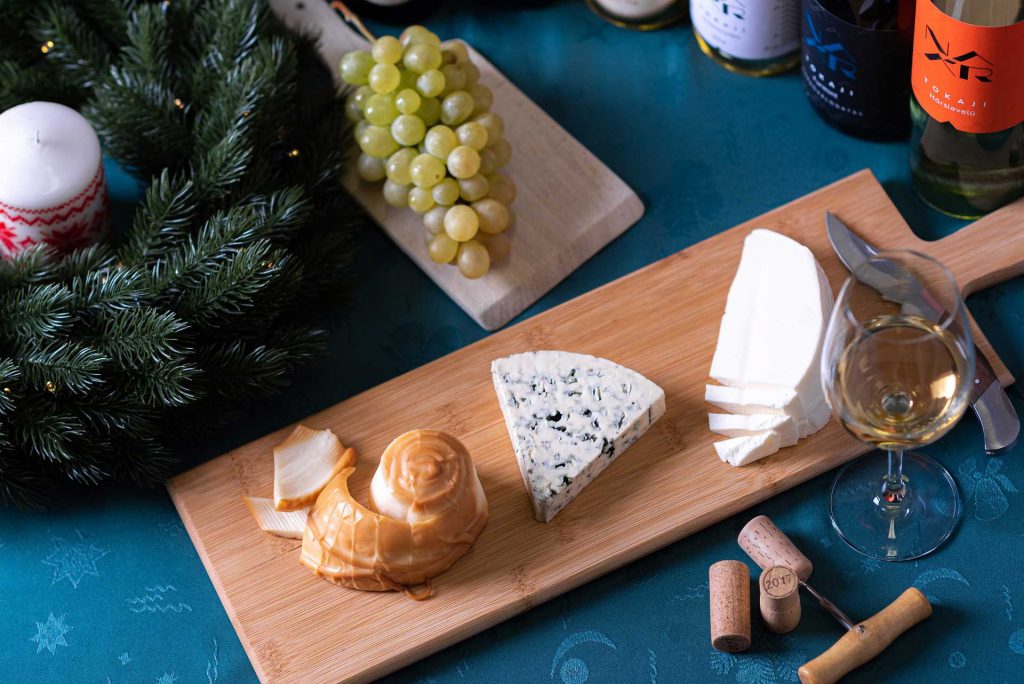 Frequently Asked Questions (FAQs)
1. Which wine can I combine with triple cream cheeses?
Red wine works best with soft and creamy cheeses, allowing the cheese flavours to blend in your mouth while offering a kick of their tartness. But you should check the moisture content of the cheese before pairing it with red wine.
2. How old should my wine be?
At the least, your wine should be at most two to three years. But, of course, this only applies to wines manufactured for consumption when old and ripe. But when pairing with cheese, it is best to use a new wine.
3. What should be the temperature of the wine?
This depends on the wine you are serving. But most of the wines should be served chilled. So make sure to keep the bottle stored in the refrigerator. However, when pairing with a block of aged cheese, it is best to serve wine at room temperature.
4. Which wine works well with almost all types of cheese?
White wine is considered best for most cheese types. It is fruity and tarty and has a great scent that improves your wine and cheese pairing experience.
Final Words
No matter how old the history of wine and cheese pairing is, it will always be a classic combination. The wine and cheese pairing concept took off in Italy, which is why Italy makes the best wines. It is a sweet and tangy combination and leaves you wanting more.
You need to consider a set of factors before trying out a wine and cheese combination. And we made sure to mention most of them. You can try out different things once you get a hold of how this works.
This brings us to the end of this post. We hope the article was interesting and answered all your questions. Happy Pairing!
PS: if you happen to be in Sydney, read this guide on Time Out about the best places to try wine and cheese.