From the beginning of British colonisation of Australia in the late 1700s, beer was already playing a significant role in the development of this fledgling nation. Within a few short years of settlement by British ex-pats, early governors and their convict charges the first hops were successfully grown and the first Australian pubs opened. The taste for beer and the varieties available have grown steadily in the ensuing years, and the favourably warm climate and outdoor lifestyle of Australia lends itself to the reputation of an Australian people who enjoy an ice-cold beer at the end of a hard-working day. In Australia, beer drinking has been an evolution rather than a revolution, with favourite brands steadfastly promoted by their loyal customers.
Australian beer history
On 26 August 1768, Captain Cook and his crew departed England on the Endeavour on a voyage of discovery. Four tonnes of beer was brought on board to maintain the health of the seamen as an alternative to unsafe drinking water. It's also a possibility that beer was brewed during the long sea journey after Nathaniel Hume suggested that Endeavour botanist Joseph Banks take "a quantity of molasses and turpentine in order to brew beer for your daily drink when your water becomes bad." Barely a month after departing England, the Endeavour's beer supply was almost entirely depleted, prompting Captain Cook to write, "Served wine to the ship's company, the beer being all expended to two casks which I wanted to keep some time longer."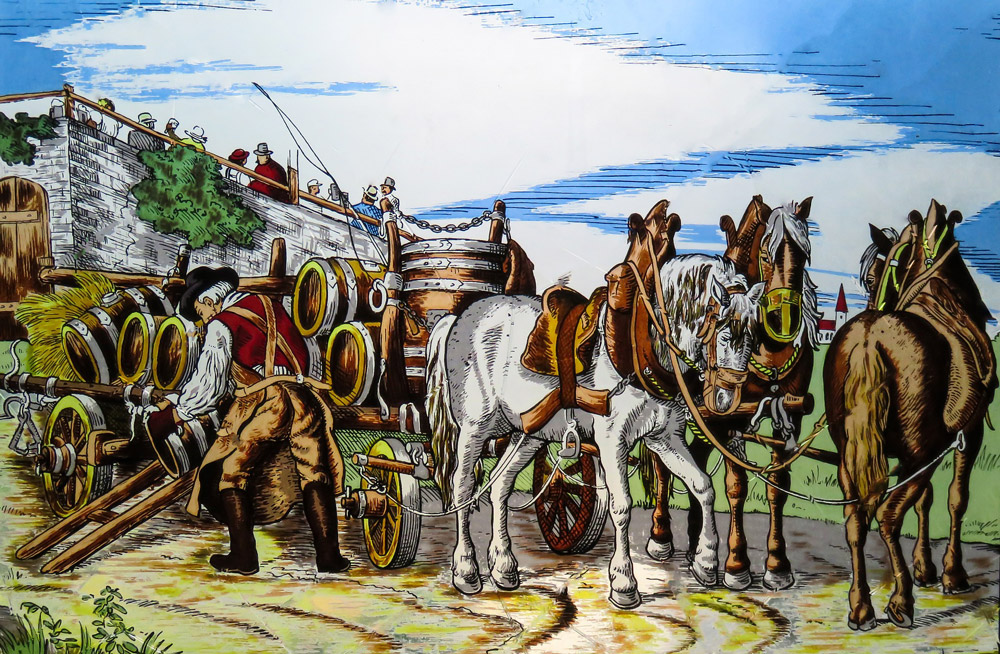 The rum days
Captain Cook provided English governments with a glowing endorsement of a new continent he had discovered on the voyage; a far away place that would eventually be named Australia. By January 1788 the first fleet of settlers arrived in Australia and began the arduous task of taming this foreign land. The harsh environment, difficult terrain, and warm climate offered little in the way of leisure pursuits for the colonists and a staunch drinking culture soon developed in lieu of other entertainments. Rum was the hard-drinking liquor of choice in early Australia, resulting in the nation's inhabitants developing a reputation for rowdy and unsavoury drunkenness.
For a period of time rum was the unofficial national currency of Australia, prompting one observer to remark: "The population is divided into two classes, those who sold rum and those who drank it." In the early 19th century, a novel measure was taken to lessen the consumption of rum and create a more orderly society – beer was introduced. Change didn't come easy, but by the middle of the century rum was dislodged and beer had been accepted as the national drink of Australia.
Early beer production
Although rum had been all pervasive, attempts at beer production were going on behind the scenes. The first beer manufactured in Australia took place within a few short decades of colonisation when John Boston brewed beer using Indian corn and cape gooseberry leaves. Soon after, in 1796 Australia's first legal pub, the Masons Arms was established at Parramatta by James Larra. The pub must have been a triumph for Larra, as he had initially been deported from London as a convict for stealing a tankard of beer.
In 1806 James Squire successfully brewed beer with hops and an Australian government-owned brewery began production. Australia's longest operating brewery, Cascade, was established in 1822, followed by a boom in brewing by other iconic brands including Tooth's, Coopers, Emu, Fosters and Castlemaine. However, it wasn't until 1885 that Australian breweries started producing lager style beers that were deemed more refreshing in Australia's hotter climate. Today, lager is by far the most popular type of beer in Australia, although the modern market continues to diversify and welcome the introduction of new beer varieties.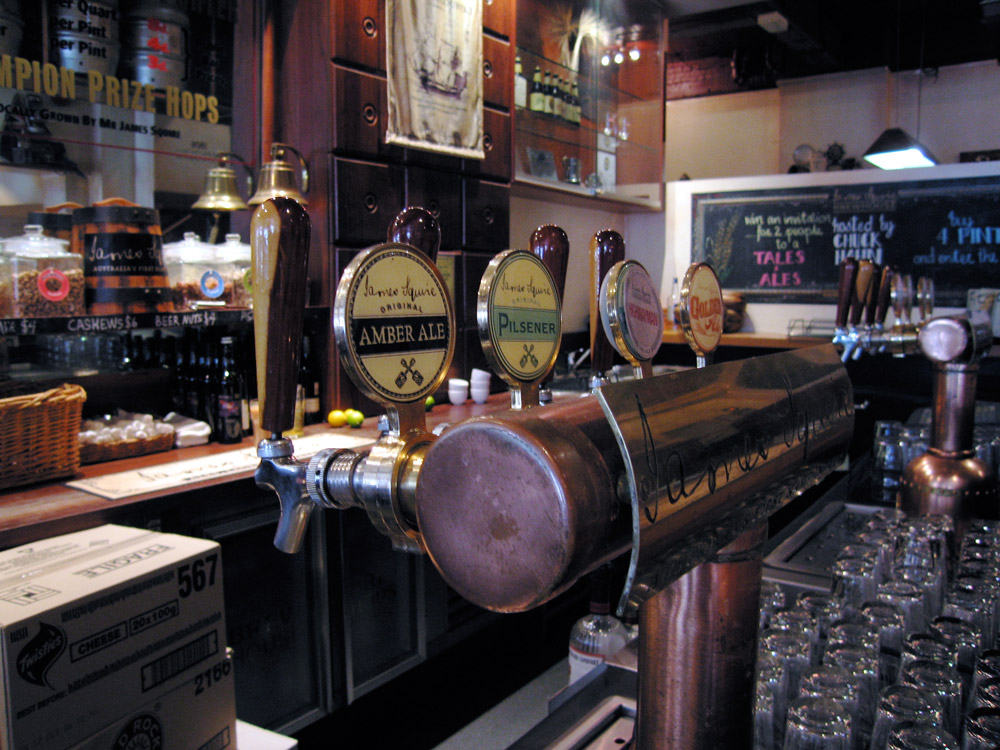 Lager
It's not surprising that close to 95% of all beer produced and consumed in Australia are lagers. The warm climate is ideally suited to a beer that is cool, crisp and refreshing. Of all Australian lagers, Victoria Bitter (VB) is one of the few that have transcended regional loyalties and is unanimously supported nation-wide. VB was first brewed in Melbourne in the early 20th century, and is a full-flavoured bitter beer made with pale malt. Rivalling Victoria Bitter is Toohey's New, a mildly hopped and easy-drinking lager produced in New South Wales. Other popular lager varieties include Castlemaine XXXX, Carlton Draught and Pure Blonde. Mild flavoured pilsener lagers have also steadily risen in popularity, and include brands such as Hahn Premium and James Boag's Premium.
Ale
The diverse multicultural make-up of the Australian population means there will always be varieties of beer produced to satisfy cultural preferences. Compared to lagers, there are relatively few ales produced in Australia, but they have a dedicated following. Tooheys Old is a brand familiar with Australians for its robust flavours courtesy of roasted barely malt and subtle hoppiness providing a hint of coffee and chocolate. Coopers Pale Ale and Sparkling Ale are also well known, providing fruity undertones and a full-bodied flavour.
Stout
Traditionally drunk at room temperature in cooler European climates, stouts are generally relegated to a support role in the Australian drinking culture. Regardless of this, and with a desire to please a broad customer base, most Australian breweries produce stout varieties that are held in high esteem. Coopers, Cascade and Southwark all produce formidable stouts, as do many new breweries in the burgeoning craft brewing industry. The popularity of Irish themed pubs in Australia has resulted in Guinness also developing a strong following, and it is increasingly available on tap. Australian Guinness varieties range from 4.3-6% abv.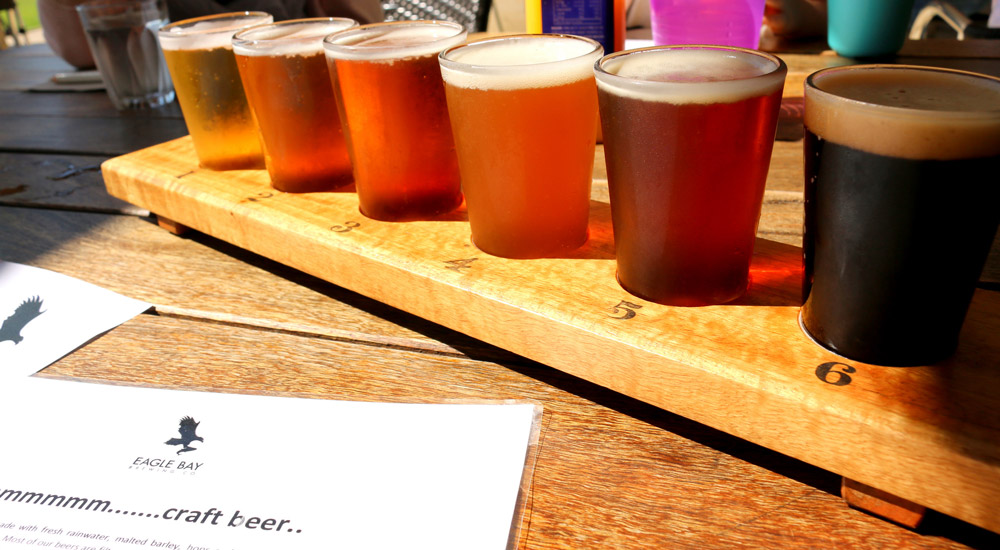 Speciality and craft beers
The speciality and craft beer revolution has made huge inroads throughout Australia during the last couple of decades. There are now hundreds of small operations around the nation brewing beer to satisfy regional tastes, and some Australian craft beers are beginning to make waves overseas. Major breweries have also entered the market with their own craft offerings in order to capture a share of the growing market. The Craft Beer Industry Association is the national body overseeing Australian craft brewers, with five categories of membership:
National Craft Brewers: Showing a strong presence in all markets, producing between 5-40 million litres per annum.
Regional Craft Brewers: Those with a strong regional base who are developing a brand awareness outside their home base.
Microbreweries: Small-scale craft brewing operations, with on-site and off-site sales.
Nano and Pub Brewers: Small-scale breweries, often linked to on-site sales at a hospitality venue.
Contract Brewers: Specialist brewers in demand who don't own a brewery or have an excise licence.
The beer culture in Australia is rapidly evolving, and exciting new brews are popping up everywhere. New styles are being invented, old recipes reborn, and radical experimentation taking place. Popular craft beers include Little Creatures, Matilda Bay, Bluetongue and Mountain Goat which recently began exports to the United States.
Regional preferences
Prior to 1901, Australia was comprised of separate colonies intent in forging their independent identities. Each colony had their own set of laws regulating alcohol sale and production, and contact between the different settlements was only possible via ocean-going vessels. Each colony developed their own beer brand to satisfy regional tastes, and it wasn't until the vast Australian distances were linked by rail networks that people and products could move more freely.
Time has moved on but fierce loyalty remains within Australian states regarding their locally produced beer brands. Even today, in the 21st century, Australians identify their beer with their home state almost as much as they do with the beer brand and taste itself.
Victoria: Carlton Draught, Victoria Bitter, Melbourne Bitter
New South Wales: Tooheys, Hahn, James Squire, Reschs, KB Lager
Queensland: Castlemaine XXXX, Powers
South Australia: Coopers, West End, Southwark
Western Australia: Emu, Swan, Kalgoorlie
Tasmania: Boags, Cascade
Northern Territory: NT Draught (home of the famous Darwin Stubby)
Despite regional favouritism, massive consolidation of Australian breweries has taken place. As of 2013 every major brewery in Australia has been owned by giant multinationals Lion Nathan and the Fosters Group, with the only exception being Coopers brewery. The two Australian brewing powerhouses have also undertaken the production of well-known imported beer brands. Lion Nathan brews a local version of Guinness, Heineken, Beck's, Stella Artois and Kirin, while the Fosters Group brews Bronenbourg and Carlsberg.
The popularity of Fosters Lager has diminished considerably within Australia but creative marketing ensures it is among the best selling beers worldwide, and is especially popular in the United States.
Visitors to Australia are magnetically drawn to the beer culture as part of their Australian experience, and the impression of Australians enjoying good times and a good beer has become a significant feature of the national identity. Australian beer is considered some of the world's best, and despite the short history as a nation, Australia's brewing traditions are now several centuries old, and the wealth of experience and experimentation, coupled with a competitive drive, has resulted in local and international acclaim for Australian beer.